Seismic Evaluation of Asymmetric Multi-Story Wood-Frame Buildings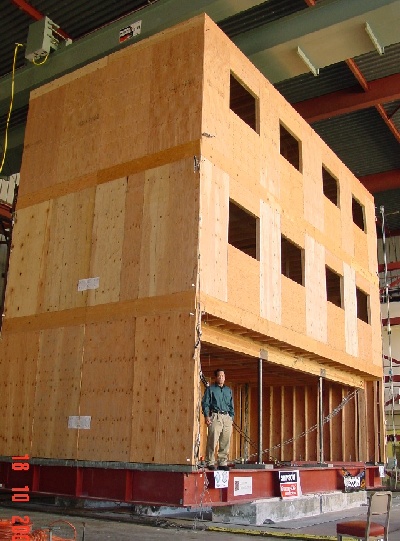 Executive Summary
The aim of this research is to study the seismic response of typical residential multi-story wood frame structure subjected to multi-directional ground motion. The torsional effect due to the open front in the first story on the seismic response of a three-story structure with tuck-under parking is of particular interest. Different finish materials such as interior gypsum board and exterior stucco will be included in the study. Based on the results of the experimental investigation of the selected structural configuration, different retrofit techniques (for the open front in the first story and for the upper stories) will be implemented for seismic evaluation purposes.

During the construction of the three-story wood structure, the vibration characteristics of one- and two-story structures will be determined from multi-directional dynamic loading. The selected building will be tested on the multi-directional shaking table at The University of California at Berkeley. The research presents task 1.1.2 of the CUREe-CALTECH Wood-frame Project.
Research Team
Clay Naito, Post-Doctoral Researcher
Assistant Professor Khalid Mosalam, Principal Investigator
Professor Stephen Mahin, Co-Principal Investigator
Publications
K. M. Mosalam, C. Machado, K.U. Gliniorz, C. J. Naito, E. Kunkel, S. A. Mahin, "Seismic Evaluation of Asymmetric Multi-Story Woodframe Buildings," CUREe/Caltech Wood-frame Task 1.1.2 Final Report, University of California Berkeley, April 2002.
Naito, C.,J., Mosalam, K.M., Mahin, S.A., "Rehabilitation Of Open Front Wood-Frame Buildings," 12th European Conference on Earthquake Engineering [Proceedings], Elsevier Science Ltd., London, Sept. 2002, Paper No. 540
Page Last Updated Friday, 24-Jun-2005 18:31:53 EDT