Evaluation of Bond Mechanics in Prestressed Concrete Applications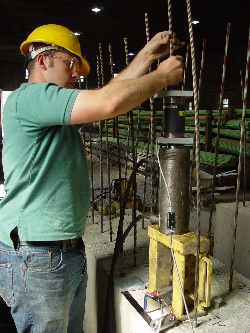 Abstract:
Successful designs of prestressed structural elements include considerations for transfer and development lengths of prestressing strand. The effectiveness of bond strength at the strand-concrete interface controls the transfer and development lengths. Three major mechanisms contribute to bond strength: adhesion at the strand-concrete interface, frictional forces enhanced by radial forces in the strand at prestress release (the Hoyer effect), and mechanical resistance (interlock) due to axial bearing forces on the helical strand. Current tests for bond strength use untensioned strand and thus only incorporate adhesion and interlock mechanisms in the specimen. In this research program, several tests will determine the relative contribution of each of these three major mechanisms.

The research program includes testing on self consolidating concrete (SCC) and high early strength concrete (HESC) specimens to compare the effectiveness of bond strength development in each material. Other influences, like the affect of confining reinforcement on strand length development, will also be explored through additional specimen series.
Researchers:
Clay Naito, Principal Investigator
Tyler Tate, Graduate Student Researcher

Sponsors:
Pennsylvania Infrastructure Technology Alliance
Schuylkill Products, Inc.

Publications:
1. Tate, T., and Naito, C., "Evaluation of Bond Mechanics in Prestressed Concrete Applications," ATLSS Report No.05-09, ATLSS Center, Lehigh University, July 2005, 134 pages.
Page Last Updated Friday, 24-Jun-2005 18:23:32 EDT