Research Experience for Undergraduate Students in Large Structural Systems at Lehigh University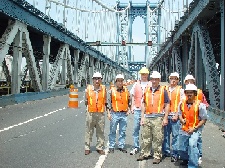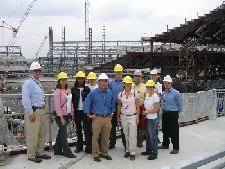 Background:
The Center for Advanced Technology for Large Structural Systems (ATLSS) at Lehigh University, with support from the Pennsylvania Infrastructure Technology Alliance (PITA) offered summer fellowships for research at the ATLSS Center. The fellowship was for undergraduate students in their junior year or beginning their senior year of college in civil engineering with interests in the areas of structures, materials, or construction. The program description is provided below.
Program Outline:
Ten-week research experience with a stipend of $3700 (June 2 - August 8)
Opportunity to work on an interesting engineering topic in the area of structures, materials, or construction.
Work under the mentorship of a faculty member or research engineer and a graduate student
Participate in workshops on how to write technical reports and how to give effective presentations.
Visit structural engineering companies and construction projects.
Abstract:
In the summer of 2003 a 10-week program was held to expose undergraduates to research in the area of structural engineering. The students were recruited from Lafayette College, Notre Dame University, Lehigh University, Morgan State University, the University of Puerto Rico, and Purdue University. These students participated in ongoing research projects at the ATLSS Center and toured structural engineering projects in Pennsylvania, New York, and New Jersey. This report summarizes the REU program and presents the research of the students involved. The titles of the research reports follow:

Dynamic Characterization of Structural Systems and Response to Seismic Simulation Control Measures By Lauren M. Haney, ATLSS Undergraduate Researcher; Faculty Investigator: Professor Yunfeng Zhang; Graduate Student Mentor: Jian Li
Analytical Studies of Deep Column Moment-Resisting Building Frame Connections with Reduced Beam Sections By Irene K. LaBarca, ATLSS Undergraduate Researcher, Faculty Investigator: Dr. J. M. Ricles; Graduate Researcher: Xiaofeng Zhang
Painting Fatigue of the Advance Double Hull of AL-6XN Steel By Carián Rivera, ATLSS Undergraduate Researcher; Faculty Advisor: Professor Ben T. Yen; Graduate Student Mentor: Duncan Paterson
Evaluation of Weathered Oriented Strand Board and Plywood Shear Wall Capacity for Use in Woodframe Construction By Kaysi-Ann Spence, ATLSS Undergraduate Researcher; Research Advisor: Clay J. Naito, Ph.D., P.E.
Experimental and Analytical Study of a Retrofitted Pin and Hanger Bridge By Bridget Webb, ATLSS Undergraduate Researcher; Research Advisors: Robert Connor, Ian Hodgson, and Carl Bowman


Organizers:
Clay Naito, Principal Investigator 2002-2003
Robert Connor, Co-Principal Investigator 2003
Robert Alpago


Publications:
Naito, C., "Final Report - 2002 REU Program," ATLSS Report No.03-03, ATLSS Center, Lehigh University, 2002, 92 pages.

Naito, C., Connor, R., "Final Report - 2003 Research Experiences for Undergraduates," ATLSS Report No.03-23, ATLSS Center, Lehigh University, December, 2003, 34 pages.

Sponsors:
Pennsylvania Infrastructure Technology Alliance
ATLSS Research Center


Page Last Updated Wednesday, 04-Aug-2004 12:50:24 EDT