Development of a Welding Procedure Specification for Field Welding of Precast Concrete Connections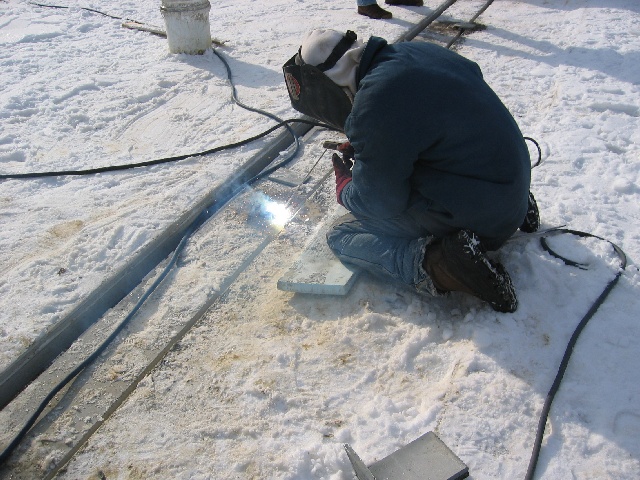 Introduction:
The research program will investigate the resulting quality of welded connections fabricated under conditions simulating typical field welding conditions encountered in precast construction. The study will develop a welding procedure specification for field welding of precast concrete connections through laboratory evaluation of welded connections of commonly used steel grades fabricated under a range of environmental conditions. The range and limits of environmental conditions that produce acceptable quality connections will be determined and incorporated in the welding procedure specification. AWS standards will be used to determine weld quality. The study will be limited to ¼-in. fillet welded connections commonly used in precast construction.

To develop the welding specification the research project is divided into four tasks:
o Task 1: Review of Current Code Requirements for Field Welding.
o Task 2: Development of Laboratory Experimental Program
o Task 3: Evaluation of Simulated Field Welds
o Task 3A: Initial Evaluation of Simulated Field Welds
o Task 3B: Final Evaluation of Simulated Field Welds
o Task 4: Complete Final Report

Project Update
The project was awarded by PCI in early 2006. The research project has been completed as of October 2007. The final report is available at the link below. Additional research is ongoing to examine the effects of falling water on the weld quality and to develop methods for welding through galvanized steel.
Researchers:
Richard Sause, Principal Investigator
Clay Naito, Co-Principal Investigator
Eric Kaufmann, Co-Principal Investigator
Jason Zimpfer, Graduate Student Researcher

Sponsors:
Precast/Prestressed Concrete Institute

Other Participants:
High Concrete Structures
Metromont
Publications:
ATLSS FINAL REPORT Download (19 Mb)

Page Last Updated Monday, 19-Nov-2007 13:00:42 EST