Current Research:
NSF: Development of a Blast and Ballistic Resistant Precast Concrete Armored Wall System
NEES-CR: Impact Forces from Tsunami-Driven Debris
Inspection Methods & Techniques to Determine Non Visible Corrosion of Prestressing Strands in Concrete Bridge Components
Daniel P. Jenny PCI Fellowship: Analytical Assessment of the Resistance of Precast Strucutres to Blast Effects
Development of a Seismic Design Methodology for Precast Diaphragms
Development of a Welding Procedure Specification for Field Welding of Precast Concrete Connections
Use of Polyurea for Blast Hardening of Concrete Construction
Estimation of Concrete Respone Under Varying Confinement
Evaluation of Bond Mechanics in Prestressed Concrete Applications
Horizontal Shear Capacity of Composite Beams Without Ties
Lateral Resistance of Plywood and Oriented Strand Board Sheathing After Accelerated Weathering
Past Research Projects

Performance of Bulb Tees with Self Consolidating Concrete
FRP Bridge Decks with RC Parapets
Blast Resistance of a Load Bearing Shear Wall Building
Reserarch Experinece for Undergraduates
Seismic Evaluation of a Three Story WoodFrame Apartment Building with Tuck-Under Parking
Design of RC Bridge Beam-Column Connections
Evaluation of Weathered Oriented Strand Board and Plywood Shear Wall Capacity For Use in Woodframe Construction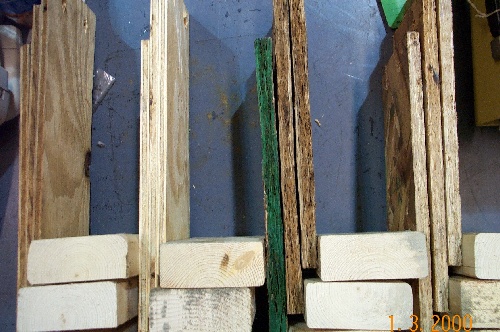 Introduction:
Oriented Strand Board O.S.B. offers an economical alternative to plywood as a sheathing material for woodframe construction. Its popularity has been assisted by its experimentally proven performance in shear wall tests. A question that remains is its durability. Subjected to extended weathering, will O.S.B. continue to provide performance comparable to that of plywood? To answer this question, an experimental program is proposed.
Subassembly Development
The focus of the test program will be the evaluation of the performance of exterior shear walls under various weathered conditions. The performance might be characterized best by the behavior of the connection between the sheathing and the sill plate or stud (Figure 1). For simplicity in testing, the sill plate to sheathing connection will be modeled experimentally. The test setup consists of a split sill plate or vertical stud nailed to a portion of sheathing panel. Displacement will be applied to either end of the sill using an Instron test machine.
Research Team
Clay Naito, Principal Investigator
Kaysi-ann Spence, Undergraduate Research Assistant
Mel Oxenreider, Undergraduate Research Assistant

Page Last Updated Tuesday, 03-Aug-2004 13:15:35 EDT