Would You Pay $1.58 million for this painting?
(Photo of painter and reproduction of
Mahishasura
from Rediff)
A bidder at Christie's New York recently did so, according to the
Calcutta Telegraph
. At $1,584,000, it is the highest price ever paid for a work by an Indian painter. According to the
Mumbai Newsline edition
of Express India, the painting, by Mumbai-based
Tyeb Mehta
, was purchased by an NRI in New York. It may be just the bad reproduction, but I don't find the painting terribly exciting. Here is the story behind it, according to
Rediff
:
Mumbai-based 80-year-old [Tyeb] Mehta's Mahishasura is said to be a work in karmic origami depicting the Hindu tale Goddess Durga slaying the demon Mahishasura. But Mehta has depicted Mahishasura a sympathetic figure embracing the goddess symbolising the demon's transformation after uniting with the divine.
I'm not quite sure I see it in the painting. But ok. A little more from Rediff on Tyeb Mehta:
Mehta is part of the Progressive Artists Group which draws inspiration from European masters but interprets Indian themes. He is said to be a very meticulous artist and is not as prolific as Indian master M F Husain.
There is a full profile of Mehta
here
. The same page includes an older version
Mahishasura
by Mehta.
There are higher quality reproductions of Mehta paintings
here
and
here
.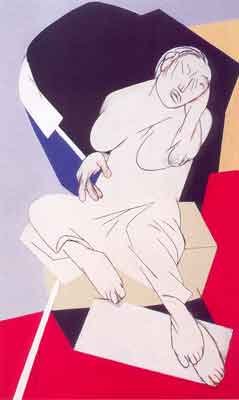 Labels: Art