Somewhere, Beyond the Sea... Bobby Darin
[
Am I seriously doing a post on Bobby Darin? Yes: why limit myself only to cheesy Indian music? If I can comment on "Bunty aur Babli," can I not comment on "Splish Splash, I was taking a bath"?
]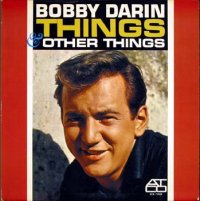 Last night, we watched the Kevin Spacey film
Beyond the Sea
, a biopic of the 1960s pop singer Bobby Darin. As biopics go, it was pretty bad. (Hint: If you're looking for a wonderful American musical, watch the Cole Porter biopic
De-Lovely
instead. Or last year's
Ray
, or even
Down With Love
.). Still, I'm a fan of Darin's music, and fortunately there is quite a lot of it in
Beyond the Sea
. It's also commendable that Kevin Spacey sings Darrin's tunes himself; he doesn't sound quite like Bobby Darin, but he does have a good voice, and really knows how to dance. In the end, I would recommend this film as a rental to people who like this kind of music. Just be prepared to fast-forward the stilted dialogue to the musical numbers. (Sort of like...
Salaam Namaste
)
It's often said that the musical genre is dead in Hollywood. But it's not strictly true; today's Hollywood musicals are generally "art films." Even
Chicago
was pretty much an art film; it only became commercially viable because of its "Oscar contention" reputation. One key difference is, of course, that in films like
Chicago
and here in the considerably less impressive
Beyond the Sea
, the actors are mainly doing their own singing.
Many Bollywood fans are embarrassed by the continued popularity of the musical, and point to the emergence of non-musical Hindi films as a sign that Indian audiences and filmmakers are maturing. I think that's a red herring. I say, keep the music; it's one of the things that really makes Bollywood distinctive. Real maturity will come to the industry once Bollywood films are shot in sync-sound, with actors start singing their own numbers.
On to Bobby Darin.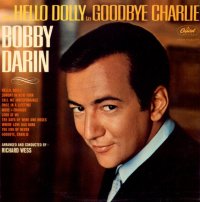 Darin's singing style wasn't especially original; he became a pop star imitating Elvis Presley, and matured as an artist imitating Frank Sinatra. After he moved away from cheesy rock songs like "Splish Splash," Darin's first jazz/big band hit was the jazz standard "Mack the Knife," a Rat Pack favorite. He just about nails it; in my view, the only version of "Mack the Knife" that's better than Darin's is Louis Armstrong's. (Eartha Kitt, I seem to recall, has a pretty brilliant version as well.)
Darin wasn't just a studio puppet. He wrote
hundreds of songs
, including some of his own biggest hits. He also helped start Wayne Newton's career, with "Danke Schoen" (the song that everyone remembers from
Ferris Bueller's Day Off
).
No point recounting the details of Darin's life here (a detailed, if worshipful, bio can be found
here
). Darin married
Sandra Dee
, aka "Gidget." They had a kid, but it was not a happy marriage. Between Darin's ego, his heart problems, his wife's anorexia, and their general struggle to stay relevant through the 1960s, there couldn't have been a whole lot of joy there. Kevin Spacey's film glosses over their divorce, and doesn't mention the fact that Darin remarried the year he died. It also doesn't say anything about the women Darin dated before he met Sandra Dee. The film also pays lots and lots of attention to Darin's
toupee
, which is, well, obvious, but does it need to be addressed in every scene?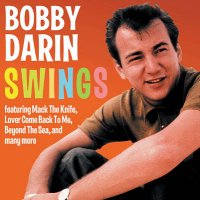 Darin was an Italian from the south Bronx -- his real last name was Cassotto.
Beyond the Sea
suggests he got the idea for his stage-name when he saw a neon sign above Chinese restaurant: "Mandarin House." The lights for the letters "m" "a" "n" were out, leaving just "Darin." I don't know how true that is.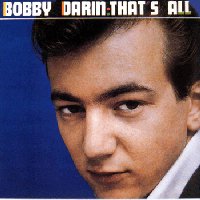 In the later 1960s, when his singing and film careers had essentially fizzled, Darin became an outspoken progressive, and publicly supported Bobby Kennedy in 1968. After Kennedy was assasinated, Darin wrote a protest folk song called "A Simple Song For Peace." It's a little insipid, but aren't all protest songs insipid? (The one exception to the rule might be John Lennon's "Imagine," and even that gets pretty unbearable after a little while.)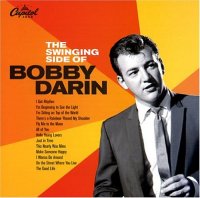 Bobby Darin died of complications from open heart surgery in 1973. He was just 37 -- younger than Shah Rukh Khan, Brad Pitt, or Keanu Reeves at the present moment
Recommendations
. I like Bobby Darin's jazz ballads and swing songs more than his late 1950s rock songs. Favorites include: the afore-mentioned "Mack the Knife," "Beyond The Sea," "Call Me Irresponsible," "Hello, Young Lovers," "I'm Beginning To See The Light," "I Got Rhythm," and "More Than The Greatest Love."
In terms of
films
, the only good Bobby Darin film I've ever seen is the racially-charged film
Pressure Point
. Darrin plays a racist psychopath, and Sidney Poitier is his shrink. The film has a nicely edgy, paranoid feel to it, and incorporates an almost Hitchockian amount of Freudian psychobabble into the story.
And there you have it -- a post on Bobby Darin.