The Singing Revolutionary
A couple of western
media sources
recently profiled a Maoist revolutionary from Andhra Pradesh, who calls himself "Gaddar," after the
anti-Imperialist revolutionary movement
from the 1910s. Through his powerful folk songs about poverty and political repression, Gaddar has become the police's biggest nightmare as they attempt to squelch the seemingly bottomless (or at least very deep) well of sympathy for the Maoists in India's impoverished rural areas.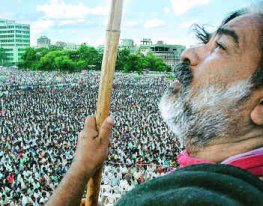 Maoists have been engaged in a longstanding civil war in rural areas in eastern and southern India, which stands as a stark rejoinder to recent upbeat developments in the cities. It started as
"Naxalbari"
in the late 1960s, but it has been reborn in the 2000s as the
People's War
. It has, by any measure, been an extremely bloody insurgency, which has left thousands of people dead in the past few years. PM Manmohan Singh recently described the movement as the current greatest threat to India's internal security.
You can hear Gaddar singing in
this NPR segment
. You should really give it a listen; the guy has a
voice
. And there is a print version of the article with many of the same details and background
at the VOA
.
It's not clear to me whether Gaddar is himself an active "soldier" in the People's War, or simply a Maoist sympathizer; most articles on him describe him as the latter. What to do about him? On the one hand, his singing ought to be protected as freedom of speech, and the lyrics of the songs in the NPR piece are all about suffering, not incitement to war. On the other hand, isn't he indirectly inciting people to commit acts of violence simply by supporting the Maoist movement?
[X-Posted at
SM
]