Zadie Smith's Academic Tomato-Meter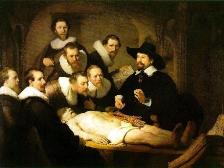 Rembrandt, "The Anatomy Lesson"
---
I really enjoyed Zadie Smith's
On Beauty
. It seems more mature and better-controlled than
White Teeth
, and I think part of its success is its relatively narrow focus and frame: it's a less ambitious novel than
White Teeth
, and that's actually a huge relief. Part of Smith's new humility is her explicit embrace of literary and philosophical precedents. Besides Forster's
Howards End
(
Etext here
), which influences the novel's structure and style in dozens of ways, Smith is also clearly thinking quite seriously about current controversies in theories of art and aesthetics. At the opening of one chapter she quotes Elaine Scarry's
On Beauty and Being Just
, which gives the novel its title and perhaps also provides the bedrock of Smith's broader argument on academia and aesthetic beauty. Here is the quote from Elaine Scarry used by Smith as an epigram:
To misstate, or even merely understate, the relation of the universities to beauty is one kind of error that can be made. A university is among the precious things that can be destroyed.
It's difficult to do much with this quote without getting into the ins and outs Scarry's interesting little book, which I took a stab at some years ago, when Scarry came to give a talk at Lehigh. For now, let me just say that I find it very provocative to think about the university not just as a workplace, but as a beautiful object unto itself.
One other thing, her acknowledgments, Smith also cites Simon Schama's definitive book on Rembrandt,
Rembrandt's Eyes
. (
Here's an excerpt
, and a
review on Salon.com
)
* * *
This novel is written with startling fluidity; reading it, one feels sure that Smith will, provided sufficient ideas and inspiration, be one of our most important writers in the years to come. Admittedly, I'm one of the book's ideal readers, a liberal academic schooled in poststructuralism and theories of hybridity, who identifies strongly with the 'Belsey' side of things in the book. Like Smith's character Howard Belsey, I've been trained to place works of art and literature in historical context, and deconstruct cultural keywords, like "beauty," "truth," and "authenticity."
But I'm also an ideal reader because I'm not satisfied with the aggressive deconstructive posture that argues that all beauty is culturally constructed, or that truth is always relative. I'm willing to keep an open ear to Smith's character Monty Kipps, who plays a black British cultural conservative. Kipps is an academic superstar in England who takes a year to teach at "Wellington College," loosely modeled on Harvard.
Zadie Smith leans liberal politically, but
On Beauty
encourages readers to take seriously both liberal and conservative attitudes about beauty (which might be more precisely labeled
deconstructive
and
positivist
attitudes; it doesn't really make sense to describe an aesthetic theory as "liberal" or "conservative"). Indeed, while politically Smith is clearly liberal, anti-elitist, and enthusiastic about racial hybridity, she clearly finds the deconstructive posture on beauty a bit absurd. Belsey, her main purveyor of deconstructive thinking, appears deeply delusional about his own relationship to beauty and art. While he rigorously "interrogates" the myth of Rembrandt's "genius," his susceptibility to female beauty in particular leads him into a series of disastrous affairs, which bring down his marriage. But he is also shown to be profoundly susceptible to beautiful music, particularly choirs and glee clubs, which always provoke in him a mysterious, embarrassingly promiscuous weeping.
While some of this is played for farce, it does raise a question:
is it possible to imagine a nexus of aesthetics and politics that combines progressive politics (and multiculturalism) with a positivist attitude towards aesthetic beauty?
In earlier eras (and in the world of Forster's novel), there was no contradiction there at all. The social divide between the Wilcoxes and the Schlegels in Forster is along the lines of liberal, egalitarian art-lovers (the Schlegels) vs. conservative, elitist, bourgeois Philistines (the Wilcoxes). To love art at all is seen as a somewhat liberal-slanted endeavor. Since the advent of postmodernism and the rise of the neo-conservatives, that relationship has been somewhat reversed.
Why can't poststructuralists admit they love the art and literature they study and teach? Why is the possibility of a sincere affective response to art drained out of "theory"? Smith addresses the question in of the wittiest moments in the entire book, namely Howard Belsey's refusal to "love the tomato." The "tomato" is a kind of skeptics' shibboleth for the rhetorical object that defines various Humanities classes at Wellington:
'Professor Simeon's class is 'The tomato's nature versus the tomato's nurture,' and Jane Colman's class is 'To properly understand the tomato you must first uncover the tomato's suppressed Herstory' . . . and Professor Gilman's class is 'The tomato is structured like an aubergine,' and Professor Kellas's class is basically 'There is no way of proving the existence of the tomato without making reference to the tomato itself,' and Erskine Jegede's class is 'The post-colonial tomato as eaten by Naipaul.' . . . But your class – your class is a cult classic. I love your class. Your class is all about never ever saying I like the tomato.'
Of course, for Victoria Kipps the deconstructive refusal to like the tomato isn't even a flaw. She goes on to suggest (though it's possible she means it ironically) that Belsey's passionate scrutiny of an artist he says he doesn't like (Rembrandt) is her idea of "rigour":
'Because that's the worst thing you could ever do in your class, right? Because the tomato's not there to be liked. That's what I love about your class. It's properly intellectual. The tomato is just totally revealed as this phoney construction that can't lead you to some higher truth – nobody's pretending the tomato will save your life. Or make you happy. Or teach you how to live or ennoble you to be a great example of the human spirit. Your tomatoes have got nothing to do with love or truth. They're not fallacies. They're just these pretty pointless tomatoes that people, for totally selfish reasons of their own, have attached cultural – I should say nutritional weight to.'
This sounds like flattery, not mockery, though it's probably dangerous to take Victoria Kipps's arguments as truly sincere given that she's Monty Kipps' daughter (Monty Kipps being the black conservative superstar mentioned above), who is about to have a disastrous affair with Belsey -- her father's arch-rival. At the beginning of this conversation, Belsey's refusal to love the tomato was proposed as a challenge; by the end, Victoria's enthusiasm for Belsey's "rigour" is closer to flirtation.
However we interpret the tone of the passage, what we're left staring at is the tomato, a figure of speech that humanities teachers and scholars should take as a serious provocation. It's hard to be sanguine that such a simple metaphor could provide an effective index by which to characterize our intellectual pursuits. One might be tempted to resist Zadie Smith, but it might be more productive to see the prevalence of tomato-based thinking, and fight the temptation to take shortcuts and apply reductive formulas in our scholarship and teaching.
So is Smith arguing that we should learn to love our respective tomatoes, whatever they may be? Or are we to disavow all traces of reductivist thinking, and throw out our tomatoes altogether? That's the part I haven't quite decided on yet.
---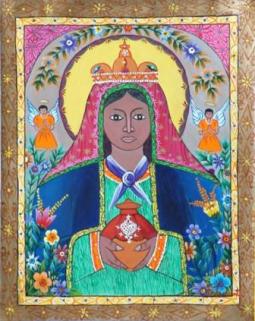 Francoise Eliaissaint, "Erzulie" (Haitian spirit of love, beauty, jewelry, dancing, luxury and flowers)