Aparna Sen's 15 Park Avenue: Schizophrenia and Genius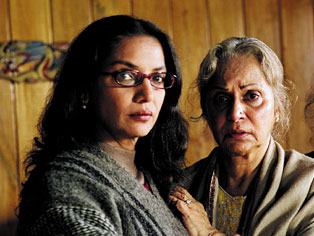 My faith in Indian cinema was restored last night with Aparna Sen's masterful
15 Park Avenue
(2005). The film stars Sen's own daughter, Konkona Sen Sharma, as well as Waheeda Rehman, Shabana Azmi, Shefali Shah and Rahul Bose. A brilliant cast, and they all hold up their ends quite well.
The film is largely in English, with brief turns to Hindi and Bangla where one would expect to see them realistically (i.e., when characters speak to strangers on the streets of Calcutta). After dabbling with a somewhat more commercial style in
Mr. and Mrs. Iyer
, Sen has returned to her serious art-house roots. (See my earlier
mini-review of Yugant
[1995]).
15 Park Avenue
has sophisticated cosmopolitan people, heavy-duty dialogue, and extended discussions of the symptoms and treatment possibilities for schizophrenia, all of which seem to be pretty much medically up-to-date and accurate. The dialogue in this movie is the closest one gets in the Indian context to the cerebral intellectualism of Ingmar Bergman or Woody Allen's early films, and I for one couldn't be happier.
I was actually a little hesitant going into this, partly because there have been many mainstream Indian films focusing on mental illness in one way or another in recent years -- all of which I've hated. Probably the biggest of those was Amitabh Bachchan and Rani Mukherjee's
Black
last year, but one also thinks of the Salman Khan and Kareena Kapoor in
Kyon Ki?
, where Salman Khan's illness bears no resemblance to any realistic mental illness I've ever seen; Ajay Devgan in
Mein Aisa Hi Hoon
, which deals with autism, pretty accurately; and Hrithik Roshan in
Koi... Mil Gaya
, where Hrithik has a developmental disorder about which almost nothing is known, except perhaps that it's "cute." And there are many, many others, most of which I haven't personally seen (an
article by Sudha Rai
at the Society for Critical Exchange has a theoretical take on a number of these films). Most of these films play up mental illness for pathos, trying very hard to make their protagonists earn the audience's sympathy. And nearly all of them end up being unserious, because they are bound by a set of conventions (really just clichés) for how to deal with mental illness: all very predictable and safe.
Though there is some sentimental attachment to Konkona Sen Sharma's schizophrenic young woman in
15 Park Avenue
, Sen's film breaks most of those conventions. Among other things, the film takes quite seriously the difficulties seriously ill people can trigger for their families -- not a small thing. And the personal dangers Sharma's character confronts (rape) as well as the real damage she causes makes this film anything but safe. This film doesn't aim to pander or tell a heartwarming tale where a person who is "different" gains a measure of social acceptance. Rather, both Konkona Sharma's and Shabana Azmi's characters are doing their best just to survive.
In an interview, Sen has said that this film's story is based on someone close to her and her family. I believe it; there is an unflagging realism and commitment to its subject in
15 Park Avenue
that just about everything else I've been seeing lately has lacked.
UPDATE: I just came across Uma's fine review of the film at
Indian Writing
.
* * * *
Incidentally, we saw
15 Park Avenue
on
BW Cinema
, a pay service that allows you to stream (not download) a pretty wide range of Indian films for $3.99 (for 3 days) or $9.99 (for a month of unlimited use).
It worked surprisingly well -- the film looked like a 'DVD print', which was watchable on our TV (through an S-Video cord).
But does anyone know if it's truly 100% legal? The company, I gather, is based in Jackson Heights, NY. I hope they are sending the requisite share of revenue to the Indian studios as royalties...