Hanuman, the animated film; and the puzzle of the Vanaras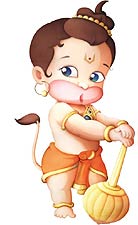 Rediff has a review
of the new animated version of
Hanuman
that's just come out. From the stills, it looks like they're showing him not as a monkey, but as a more or less hairless human (whose adult form is quite muscular), with a monkey-ish face.
I was surprised by this, but I gather that most
iconography of Hanuman
follows this pattern. I find it a bit curious, though apparently it has something to do with Hanuman's mother being a
Vanara
("monkeylike humanoid"). So I guess what I'm curious about is the idea of the Vanara itself -- which is different from the ancient Greek 'combinations' (i.e., centaurs or griffins). A Vanara isn't two animals grafted together (or a human grafted with an animal); rather it's a being that is essentially human (or "humanoid" as sci-fi people might say), but with limited animal features.
* * *
In general, I'm looking forward to
Hanuman
, which looks like it might be a winner if it ends up getting widely distributed and marketed. Since CGI films are among the most commercially successful films Hollywood produces these days, Indian studios are right to try and develop that market as well.
More stills here
.