Parineeta: A Star is Born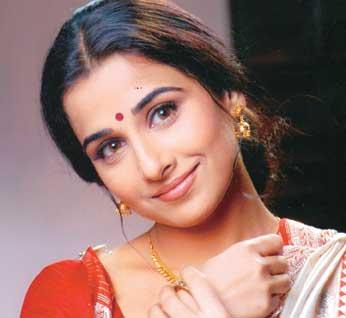 Well, maybe. Vidya Balan, who is the heart and soul of the new film
Parineeta
, has a very traditional Indian look. That is to say, she actually has 'Indian' features, in contrast to most of today's
Bollywood teenyboppers
. Will there be more roles for Vidya Balan?
Overall,
Parineeta
is as classy a Hindi film as we can expect to see this year. It has great music and nice filmic allusions, including the famous
Sharmila Tagore train
from
Aradhana
("Mere Sapno Ki Rani"), and a brilliantly kitschy big-band number with Rekha ("
Kasisi Paheli Zindgani
"). It's also a thoughtful adaptation of Saratchandra Chattopadhyay's novel -- nicely trimmed to maintain audience interest at two hours long.
Parineeta
reminds one a good deal of
Devdas
-- both movies are adaptations of Saratchandra novels -- but the melodrama in
Parineeta
is much lighter than the
Devdas
story. The central focus here is music, not alcoholism or 'courtesan' melodrama.
I would recommend
Parineeta
, especially to readers who don't watch many Hindi films. It might help a little if you know how fabulous
Rekha
was in her hey-day, but it's not required.
(Sidenote: An interesting article on the 'Devdas phenomenon' is
at the University of Iowa
. And Poonam Arora has written a serious,
scholarly article
on "Devdas, India's Emasculated Hero: Sadomasochism and Colonialism")