Maqbool vs. Macbeth (or, Shakespeare's Muslim play)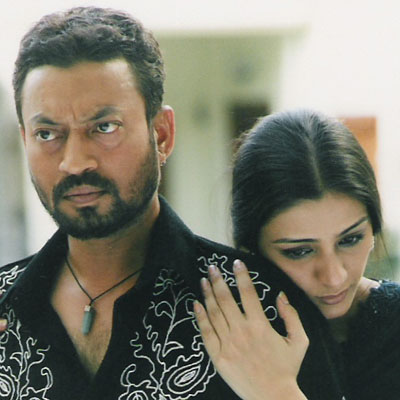 We finally saw Vishal Bhardwaj's
Maqbool
last night, thanks to the ingenious VHS piracy of our local Indian store. Now even art films are being pirated!
(Don't worry, when the legal DVD comes out I will still shell out my $10)
It's a version of Shakespeare's
Macbeth
, set in the Bombay underworld. Dark and moody, it reminds one of recent R.G. Varma horror movies (
Ek Haseena Thi
,
Bhoot
), though it is in some ways even darker.
The parallels to Shakepeare are quite close, and appear throughout the film. 'Macbeth' (Maqbool) is played by a powerful actor named Irfan Khan (he also recently played the villain in
Charas
); 'Lady Macbeth' is played by Tabu, a big star. Irfan's performance is restrained and often understated, sometimes a little too understated I thought (or maybe I've just been watching too many melodramatic Hindi films). Tabu, also, is just naturally so likeable and charismatic that it's hard to read her as murderously evil. She is better later in the film as "mad" Lady Macbeth.
For the doomed 'King Duncan' character Bhardwaj invents a brilliant godfather figure named Abbaji (Pankaj Kapoor). Though Kapoor is borrowing heavily from Brando's Don Corleone (including the trademark mumble), Abbaji is actually a great character -- one of the best Desi Dons I've seen in recent years.
Macbeth is known as Shakespeare's "Scottish Play" because it is set in Scotland, which would have been faintly alien to his English audience -- hence the witches and surreal ambience of the play. Here the sense of alienness is represented by an intense attachment to Islam amongst the film's main characters. These gangsters don't just have Muslim names and say "Salaam" and "Khuda Hafiz" every so often (the usual Hindi film convention); they are
very
Muslim. They wear skullcaps, many have full beards, prayer beads, and they go heavy on the Urdu vocabulary. At some points, Bhardwaj even has his gangsters on the floor praying! In my view it's not especially offensive to Islam, since he treats it with respect. But it is kind of surreal.
Interestingly, the "witches" (played by the legendary character actors Naseeruddin Shah and Om Puri) are male Hindu cops in the employ of Abbaji. The prediction that Maqbool will succeed Abbaji comes from astrological predictions made by Om Puri's "Pandit."
I do find the Hindi film industry's obsession with the Muslim-dominated Bombay underworld
generally
offensive -- a nuisance rather than a reason to get up and leave the theater. The representation of Islam usually remains at a very general level, perhaps out of an awareness that more specific references would in fact cause problems. Most films aren't especially serious about religion one way or the other.
Here the image of Islam is so detailed, so over the top really, that I have to read Bhardwaj as trying to be serious. It's either more offensive, or not offensive at all(Islam is something essential to the story). Moreover, the casting of a Pandit in the role of Shakespeare's witches (though you only see the connection if you know Shakespeare's play) balances the equation a bit. For Bhardwaj, Hindu astrology is akin to witchcraft; Islam is the normative belief-system.
Overall, the Indianizations of dozens of plot-points from Shakespeare's play (including Macbeth and Lady Macbeth's numerous hallucinations, the plots involving Banquo, Malcolm, and Macduff, to mention just a few) will probably be enjoyable to people who know Shakespeare's play. People just looking for a gangster film will probably be more satisfied with something like
Ab Tak Chhappan
;
Maqbool
is much closer to horror.