A Tamil version of Austen and a Hindi version of 'Unfaithful'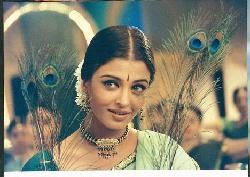 We finally saw the Tamil film
Kandukondein Kandukondein
. The DVD, which we picked up at
Raaga
in Iselin, New Jersey, advertises itself as the "first Tamil DVD in DTS Sound." It's a version of
Sense and Sensibility
, and as such it has a nicely structured plot, though Austen readers will be well-equipped to predict the surprises. However, far and away the best thing about this film is A.R. Rahman's music; the songs are among the most traditional and prettiest-sounding songs he's ever done.
It's a little strange to watch this film as a non-Tamil speaker. For one thing, the subtitles come very fast; I sometimes found myself so busy reading that I was unable to actually
watch
the film. This is not usually a problem for me: either the subtitles cut away too fast, or the dialogue in this film is particularly snappy.
Secondly, this is a film where the big stars, Aishwariya Rai and Tabu, are themselves non-Tamil speakers. As a result, while their lips move to approximate Tamil, their voices are overdubbed. So if I were to say, "I really liked Aishwariya's performance in the film," for instance, I would be describing her performance as essentially an
actress in a silent film
: her voice is being used neither in the songs nor in the dialogue! (I realize this is a fairly common phenomenon, a consequence of the porous boundary between Bollywood and Mollywood (Madras), but it still strikes me as odd.)
Incidentally, this film is playing on the big screen tomorrow in New York City, through Radha Vatsal's
Cinema India
film festival (information
here
).
I generally enjoyed the new Hindi film
Murder
, which stars a new hot-property in Bollywood, Mallika Sherawat (see this
interview
; and I thought
this review
was funny). The film is an Indian remake of Adrian Lyne's arty
Unfaithful
(
IMDB
); actually it is the
second
Indian remake of Lyne's film to come out this year (the first was
Hawas
). Like most Indian remakes of American films, it jazzes up the storyline a bit, and adds a few songs; watching both the U.S. and the Hindi versions of the film might be a good way to see the differences and commonalities in film language. American directors like unspoken tensions and unvoiced emotions; Indian films leave nothing unresolved or unspoken. (Another example of the genre is
Raaz
(secret), which remade
What Lies Beneath
(
IMDB
), often ripping the U.S. film shot for shot)
[Side thought: in an increasingly global market, how long will it be before American movie studios start sueing Bollywood for these kinds of rip-offs? Last year, Dr. Dre
was sued
by Saregama, an Indian record label, for sampling "Thora Resham Lagta Hai"... how long before it starts to go the other way around?]
Of course, most people watching
Murder
, which is currently a big hit in India, will not have seen the American film it is based on. So what is new in this film by Bollywood standards is the explicitness of the sex scenes (yes, with plenty of kissing, and more than kissing; lots of skin, but no explicit nudity). They are definitely on untested ground here...