XUtils
XUtils is a set of X-ray analysis utilities for Gatan DigitalMicrograph. The XUtils plug-in package is free of charge and avaialble
"as is"
in this site.
The current package version is 1.2 (Aug./21/'10), which consists of following functions:
Import EMSA spectrum file to DM

First derivative filter
Second drivative filter
Fixed tophat filter
Adjusted tophat filter

NiOx: characterize XEDS detector
NiOxIceC: determine ice and carbon thicknesses
This package should work in DM version 3.8 or higher (It may have an issue in DMS versions 1.8.0 and 1.8.1. Please use 1.8.2 or higher).
Information of the package version and available functions can be seen by selecting XUtils>About XUtils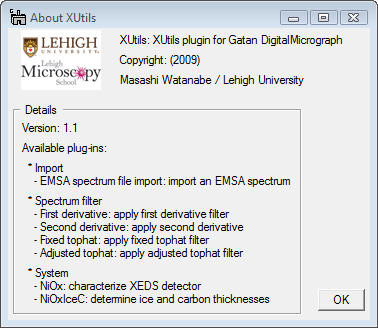 The detailed description of each function can be also found in the help file, which comes with the package.
The software is provided "as is", without warranty of any kind, expressed or implied, including but not limited to the warranties of merchantability. In no event shall the copyright holder be liable for any damages or other liability, whether in contract, tort or otherwise, arising from, out of or in connection with the plug-in or the use or other dealings in the plug-in.

Acknowledgements This plug-in package was created using a DM script "Package Creator". Thanks to Drs. David Mitchell (U. Sydney) and Bernhard Schaffer (SuperSTEM) for providing us such a very useful script.
The author wishes to thank to Drs. Kazuo Ishizuka (HREM Research Inc.) and Kenta Yoshimura (HREM Research Inc.) for providing me an idea to access help file from DM.
The author also wishes to acknowledge the support of the National Science Foundation through grant DMR-0804528 and of Bechtel Bettis, Inc during development of this plug-in package.
In addition, all the tools required to develop this package have been supported by

.

In addition, when you publish any results obtained by the use of this plug-in (i.e. scientific articles, reports, webs, etc.), please cite the XUtils plug-in as:


M. Watanabe (2010), "XUtils Ver. 1: A Set of Gatan DigitalMicrograph Plug-ins for Characterization of XEDS-detector Performance Parameters in an AEM", Microsc. Microanal., 16, Suppl. 2, 260-261 (software is available from Department of Materials Science & Engineering, Lehigh Univeristy, Bethlehem, PA18015 via web site: http://www.lehigh.edu/~maw3/research/xutilmain.html).
The M&M paper is available from
here
.
Download agreement