MSA
MSA is a set of plug-ins of multivariate statistical analysis utilities for Gatan DigitalMicrograph. The MSA plug-in package is commercialized through
HREM Research Inc.
More details of this plug-ins package may be available
here
.
The current package version is 1.2, which consists of following functions:
EMSA spectrum series import
XED-SI data import
EFTEM image series import

Bin SI
Spatial sub SI
Spectral sub SI
This package should work in DM version 3.8 or higher.
Information of the package version and available functions can be seen by selecting MSA>About MSA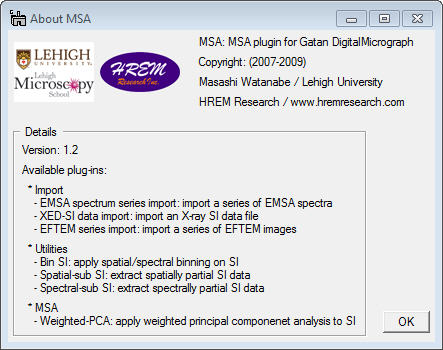 The detailed description of each function can be also found in the help file, which comes with the package. From here, you can also download the help file.


Acknowledgements The author also wishes to acknowledge the support of the National Science Foundation through grant DMR-0804528 and of Bechtel Bettis, Inc during development of this plug-in package.
All the tools required to develop this package have been supported by

.