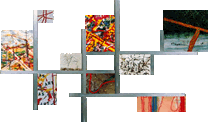 Greetings!
You have reached the web page for
George Shortess
Here you can find out about my paintings,
art installations and books
as well as something about me as an artist.
If you are interested in the computer generated books
please go to My Books.
I have added a Neural Art page which describes my early approach
to integrating my art with cognitive neuroscience.
---
home | installations | exhibits | errata | contact
© Copyright George K. Shortess. All rights reserved.