I combine anthropology with my professional experience as a policy analyst to find solutions to environmental problems. This includes researching the role of culture in managing cognitive dissonance and how this affects human behavior. I also study how information is distributed in human systems and how this affects our ability to adapt and change. I've developed many interdisciplinary research projects with colleagues from the social sciences, natural sciences, engineering, and public policy. My academic appointment at Lehigh is split between the university's Environmental Initiative and Department of Sociology & Anthropology.
Current research projects
Past research projects
Environmental perceptions and cultural change among Marshallese in America
Green-rumped parrotlet (Forpus passerinus) ecology & conservation
(photo D. Casagrande)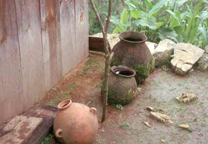 Current Positions
Associate Professor of Anthropology, Lehigh University
Research Coordinator, Environmental Initiative, Lehigh University
Production Editor, Journal of Ecological Anthropology
Topic Editor, Encyclopedia of Earth
Associate Editor, Journal of Ethnobiology and Ethnomedicine
Degrees
Ph.D., University of Georgia, Ecological Anthropology
Master of Forest Science, Yale School of Forestry and Environmental Studies
B.S., Geography, Southern Connecticut State University
Languages
ENGLISH - primary, SPANISH - secondary, TZELTAL (Maya) - intermediate, GERMAN - basic
"Scientists believe in proof without certainty: most people believe in certainty without proof."
Ashley Montagu