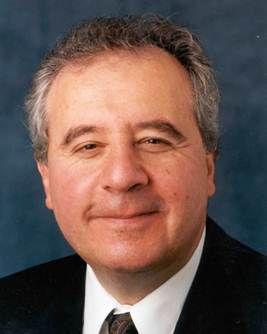 Prof. Dan M. Frangopol is the first holder of the Fazlur R. Khan Endowed Chair of Structural Engineering and Architecture at Lehigh University. His main research interests are in the application of probabilistic concepts and methods to civil and marine engineering, including structural reliability, probability-based design and optimization of buildings, bridges and naval ships, structural health monitoring, life-cycle performance maintenance and management of structures and infrastructures under uncertainty, risk-based assessment and decision making, infrastructure sustainability and resilience to disasters, and stochastic mechanics.
According to ASCE (2010) "Dan M. Frangopol is a preeminent authority in bridge safety and maintenance management, structural systems reliability, and life-cycle civil engineering. His contributions have defined much of the practice around design specifications, management methods, and optimization approaches. From the maintenance of deteriorated structures and the development of system redundancy factors to assessing the performance of long-span structures, Dr. Frangopol's research has not only saved time and money, but very likely also saved lives."
Prof. Frangopol is the Founding President of the International Association for Bridge Maintenance and Safety (IABMAS) and of the International Association for Life Cycle Civil Engineering (IALCCE). He is the Vice-President of the International Association for the Structural Safety and Reliability (IASSAR). He is also the Founding Chair of the ASCE-SEI Technical Council on life-cycle performance, safety, reliability and risk of structural systems and of the IASSAR Technical Committee on life-cycle performance, cost and optimization. He has held numerous leadership positions in national and international professional societies including Chair of the Technical Activities Division of the 20,000+ members of the Structural Engineering Institute (SEI) of the ASCE and Vice-President of the International Society for Structural Health Monitoring of Intelligent Infrastructure (ISHMII).
Prof. Frangopol is the Founding Editor of Structure and Infrastructure Engineering an international peer-reviewed journal. He is also the Founding Editor of the Book Series Structures and Infrastructures. Prof. Frangopol is the author or co-author of two books, 37 book chapters, over 300 articles in archival journals, and more than 500 papers in conference proceedings. He has edited or co-edited 40 books. With an h-index of 47 and more than 9000 citations (Google Scholar, 2014) his work has a significant impact on structural engineering.
Prof. Frangopol has supervised the dissertations of 37 Ph.D. students (seven under current supervision) and the theses and reports of 52 M.S. students. Many of his former students are university professors in the United States and abroad, and several are prominent in professional practice and research laboratories. He is also the founder of the Computational Laboratory for Life-cycle Structural Engineering at Lehigh University.
Visit the Wikipedia Entry
Download a Short Biographical Sketch
Download the Complete Biographical Sketch
Visit the Google Scholar Entry
Watch the ASCE Distinguished Membership Video
Visit summaries of current/recent research projects sponsored by FHWA a, b; NASA a, b; NSF a, b; ONR(1) a, b; ONR(2) a, b; PITA a, b
Download the Fazlur R. Khan Distinguished Lecture Series Poster 2007-2014