How to cite
A publication describing ProCAAT is currently in preparation. At the moment, the best way to cite ProCAAT is to refer to a report of the ATLSS Engineering Research Center describing an older version of the tool (called ProCIM).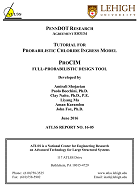 Amirali Shojaeian, Paolo Bocchini, Clay Naito, Liyang Ma, Aman Karamlou, John Fox.
Tutorial for Probabilistic Chloride Ingress Model - ProCIM full-probabilistic design tool.
ATLSS Engineering Research Center, ATLSS Report No. 16-05, 2016.
New version of the tutorial, with updated ProCAAT screenshots available here.
Disclaimer
At this stage, ProCAAT is provided as a Beta version. No support is provided, and no official manual, but only a comprehensive tutorial, downloadable from the link above. More information on its underlying models can be found in the cited papers.
ProCAAT is still under development and the Authors take no responsibility for the results that it will provide, nor for data loss or other types of damage that it might accidentally cause.
Users' feedback is extremely valuable to us. Feel free to contact us for questions, suggestions and to report bugs.
Download
ProCAAT combines MS Excel, Visual Basic, and Matlab. You can launch it as a native app in Windows, or you can open directly the Excel spreadsheet where the input should be provided.
ProCAAT can be downloaded and used for free, but you will need a license to run it. In this page you can download the package and ask for the free license.
Request a license
A license can be obtained for free filling the following form. Normal licenses are valid for 180 days and can be renewed for free. If you need a longer license, just let us know and justify it. Do not hesitate to send us an email for clarifications.