2010 Fazlur R. Khan
Distinguished Lecture Series
Honoring a legacy in structural engineering and architecture
Distinguished Lecturers

ZDENĔK P. BAŽANT

RON KLEMENCIC

JOHN E. BREEN


Progress Engendered by Collapses of Record Setting Structures: Malpasset Dam, World Trade Center Towers and KB Bridge in Palau

OUTRAGEOUS!

The ABCD's of Bridge Building: Affordable, Beautiful, Constructible, Durable
ZDENĔK P. BAŽANT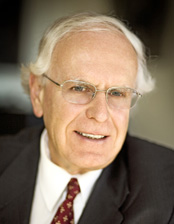 McCormick Institute Professor & Walter P. Murphy Professor
Northwestern University, Evanston
Progress Engendered by Collapses of Record Setting Structures: Malpasset Dam, World Trade Center Towers and KB Bridge in Palau
(click to view video)
Friday, February 26, 2010
4:10 P.M.

Sinclair Laboratory Auditorium
Overview:
When built, these were the tallest and slenderest arch dam, the tallest building, and the prestressed box girder of world-record span. The mechanisms of collapse of these structures are clarified. The size effect is shown to have been an important factor in the 1959 failure of the Malpasset Dam. Second, the disputed causes of the twin WTC towers collapse in New York on 9/11/01 are discussed. Third, the 1996 collapse of the Koror-Babeldaob prestress concrete box girder in Palau, with a 241 m span, is analyzed. The lessons from these regrettable catastrophes are bound to advance the structural engineering profession.
MORE DETAILS available on Bažant's presentation.
RON KLEMENCIC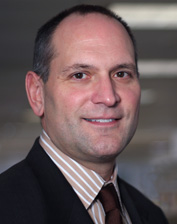 President
Magnusson Klemencic Associates, Seattle, WA
OUTRAGEOUS!
(click to view video)
Friday, March 19, 2010
4:10 P.M.

Sinclair Laboratory Auditorium
Overview:
"Outrageous," "wacky," and "wild" are words not typically associated with building design. However, today's modern architecture many times evokes these thoughts. While the general public may be asking "why?, most structural engineers are contemplating "how." Ron Klemencic, P.E., S.E., will guide a visual tour through the structural design of some of the most interesting and challenging structures in the world today. The advances in design and construction technology, materials, and communication capabilities which make these projects possible will be highlighted.
MORE DETAILS available on Klemencic's presentation.
JOHN E. BREEN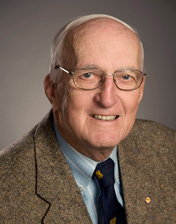 Nasser I. Al-Rashid Chair in Civil Engineering
The University of Texas, Austin, TX
The ABCD's of Bridge Building: Affordable, Beautiful, Constructible, Durable
(click to view video)
Friday, April 16, 2010
4:10 P.M.

Sinclair Laboratory Auditorium
Overview:
The interrelation of aesthetics with overall bridge design, construction, and maintenance is presented. Beauty is highly desirable, but aesthetics must always be balanced with consideration of efficiency, constructability, and attention to durability. The enigma of deciding "What price beauty?" is clearly illustrated in this comparison but can not be definitely answered because of the societal and political factors involved. The presentation concludes with a discussion of delay related user costs and the impact that they are having on choice of bridge structural systems such as in the Minneapolis I-35 bridge replacement.
MORE DETAILS availalable on Dr. Breen's presentation.
---

2010 Fazlur R. Khan Distinguished Lecture Series Announcement Flyer (1.3 MB PDF File)
The Fazlur R. Khan Distinguished Lecture Series has been initiated and organized by Dan M. Frangopol, the first holder of Lehigh's Fazlur Rahman Khan Endowed Chair of Structural Engineering and Architecture.