---
For prospective students
Introduction
Thank you for your interest in our program here at Lehigh University. The Department of Earth and Environmental Sciences (EES) has 15 full-time faculty that cover a broad range of disciplines in Geology, Ecology, and Environmental Science. I am a fluvial and tectonic geomorphologist specifically interested in the long-term evolution of landscapes, the fluvial response to active tectonics, and watershed response to human-dimension climatic change. EES has active research programs in all of these areas and we are aggressively recruiting outstanding graduate students to build the graduate program in these and related disciplines. The faculty I collaborate and interact with most closely here are Peter Zeitler (tectonics and geochronology), Claudio Berti (geology and geomorphology), Joan Ramage (Remote Sensing, InSAR), Ken Kodama (paleomagnetism and cyclostratigraphy), Anne Meltzer (seismology, geophysics), and David Anastasio (structural geology). I have some long standing collaborations with our ecologists, paleoecologists, hydrologists, and climate modelers (Don Morris, Bruce Hargreaves, Zicheng Yu, Steve Peters, and Ben Felzer) working mostly on the ecology and physical hydrology of the Lehigh River watershed. And I maintain close research ties to many other researchers around the world. Visit my research page to learn more about active and on-going research collaborations and projects.

Solid Earth Research Group Surface Processes Research Group Environmental Change Research Group

Research in surficial processes is well represented across the board in EES. It is one of the few Departments nationwide with two geomorphologists of complementary expertise on staff (Pazzaglia and Evenson); Peter Zeitler and Bruce Idelman (research staff) have brought a new He/U-Th thermochronology lab on line dedicated to understanding near-term exhumation of orogens; the ecology group has a long standing excellent reputation for expertise in limnology (Heargreaves and Morris) and paleoecology (Yu) and our geochemist (Peters) has an active research programs in watershed-scale aqueous geochemistry. Our commitment to excellence in surficial processes is complimented by our recent hires of a soil geologist/ecologist and paleoecologist.

---
Setting
OK, OK!!! This is not the view from the University (wish it was). But this place is real close by! It is the view looking northeast at the Lehigh water Gap near Palmerton, PA. This, and the nearby Wind Gap are places where W. M. Davis and company struggled to understand the origin of transverse drainages. Lehigh University is actually located on the northern flank of Pennsylvania's Blue Ridge (South Mountain) and has a commanding view of the Lehigh Valley (Great Valley) and Ridge and Valley of the Appalachians to the northwest. This is the landscape of Davis and Hack. It is where the great geomorphic discourses on long-term landscape evolution were born and continue to be lively debated. Far from a "dead" orogen, the Appalachians have a complicated post orogenic exhumational history and stand as one of the best studied orogens in the decay stage of its evolution. These studies, some of which are now ongoing funded research projects in the EES Department, are investigating the causes of late stage rock-uplift and exhumation through the relatively new technique of He/U-Th thermochronology. Over a distance of only 250 km, one can travel from the subsided Tr-J rift-flank uplift buried under a wedge of Coastal Plain sediments, across the Fall Zone, a flexurally-maintained hinge of the isostatically-rising continent and subsiding Coastal Plain, through the high grade metamorphic heart of the formerly Andean-scale late Paleozoic Appalachians on the Piedmont, to a continental rift basin formed during a time when the area around Lehigh looked like the Basin and Range, into the Ridge and Valley, the fold and trust belt of the late Paleozoic Appalachians, and finally, the Allegheny Plateau, the seaward facing escarpment marking the present-day location of the drainage divide in its slow, but methodical westward march.
In addition to the exciting orogen-scale tectonic geomorphology research in the Appalachians, the setting is well suited to studying climatic, ground water, and coastal processes. A wide range of glacial and periglacial deposits in central and eastern Pennsylvania preserve a rich record of the effects of past climate changes on landscapes. Ground water geomorphology is well-expressed in the numerous karst systems underlying Pennsylvania's carbonate valleys. And easy access to beaches on the Atlantic coast provide a hands-on experiences of coastal processes and change.

---
Research and the Student Experience
The research and graduate program for geomorphology students is decidedly field-intensive and designed to afford opportunities to learn about the geomorphology in Lehigh's own backyard, as well as the individual's location of study. Current research is motivated by three primary interests:
Long-term landscape evolution at the orogen scale and the dynamic feedbacks between the deep earth processes which act to uplift rocks and the surficial processes which act to exhume rocks.
The processes responsible for the formation and preservation of fluvial terraces and the reconstruction of high-resolution fluvial stratigraphic records through the use of soil geomorphology, numeric age dating, palynology, and cosmogenic profile dating.
Documenting the effects of past climate changes on the landscape and understanding those changes in the context of human-dimension effects of global climate change on watersheds.
All students will be expected to acquire and/or master four primary skills in their graduate study:
Observation, organization, and correct geologic interpretation of geomorphologic field-based data. This will include, for many projects, the completion of a detailed geologic map.
Quantification of the landscape and watersheds through the acquisition, manipulation, and application of digital elevation models. This will include, for many projects, a firm understanding of GIS and several GIS software packages.
Understanding of the pertinent geomorphologic processes in their study in quantitative terms. This may include for some studies, the construction of a physically-based numeric model and/or flume-based models.
Effective writing and communication of the subject matter as published papers. M.S. students will be guided in the process of preparing a single manuscript that will also serve as their M.S. thesis. Ph.D. students should be prepared to submit three manuscripts, the integrated sum of which will constitute the dissertation.
At a minimum, interested graduate students should have completed two semesters (or the equivalent) of calculus, chemistry, and physics as supporting sciences to a geology or related degree, and have attended a summer geologic field camp. (NOTE, these are FJP's preferred program prerequisites and not the official requirements of EES).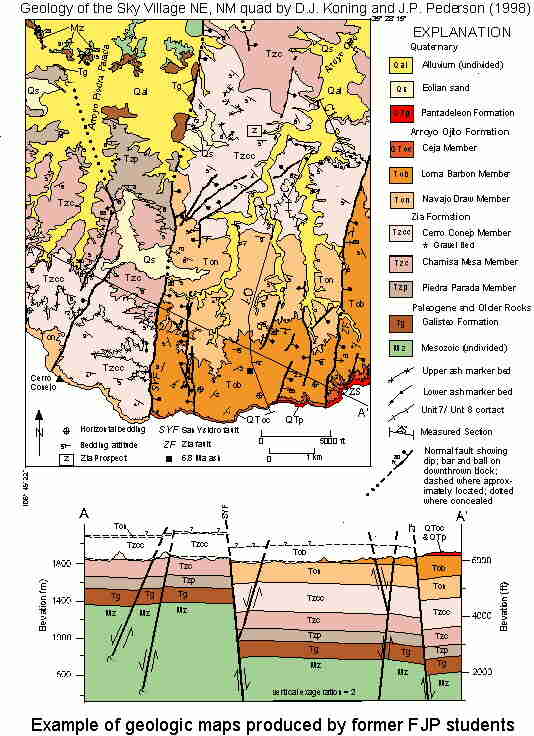 Recent and current geomorphologic and related research projects include the studies of these students:
Matt McGavick is a second-year year M.S. student interested in fluvial and tectonic geomorphology in the central and eastern U.S. (CEUS). Matt is developing a stratigraphic model of the terraces of the South Anna River, VA using soils and OSL geochronology. The South Anna River traverses directly over the epicenter of the 2011 M5.8 Mineral earthquake.
Helen Malenda recently wrapped up her M.S. thesis in central Virginia where she completed a USGS EDMAP funded project mapping river terraces in the Ferncliff and Pendleton quadrangles. Helen also completed a knickpoint celerity model project for Piedmont streams.

Chris Dempsey, co-advised by Don Morris, recently wrapped up his Ph.D. project in bio-geomorphology and aquatic ecology. Chris studied the microbial ecology of small headwater streams dating and characterizing the quality of exported DOC and POC. His work is important in quantifying the terrestrial component of the global carbon budget. Chris is now a professor at Gannon University.

Ryan McKeon, co-advised by Peter Zeitler completed his Ph.D. in thermochronology, tectonic geomorphology, and landscape evolution. Ryan's persistence with bad-actor apatites (his words) has allowed him to understand the most recent history of erosional unroofing in the Appalachians.
Kellen Gunderson, co-advised by David Anastasio completed a M.S. and Ph.D. at Lehigh. Kellen studied growth strata along the northern Apennine Mountain Front, Italy. Here, he used cyclostratigraphy to place time into tilted stratigraphic sections and then measure the unsteadiness of sedimentologic and tectonic processes. Kellen is a geologist for Chevron.

I encourage you to contact these folks for a candid assessment of EES and working with me as an advisor. Please also visit the research pages to learn more about research project opportunities.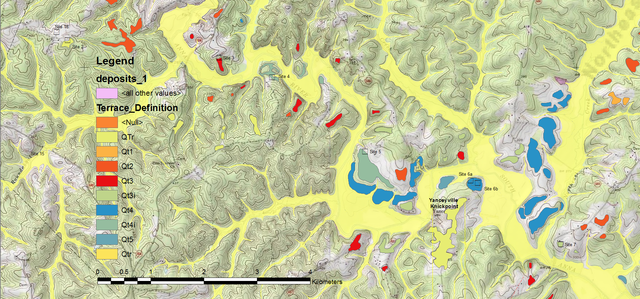 Part of the river terrace map of the South Anna River, completed by Helen Malenda.

---
What are they doing now?

A reasonable measure of what prospective students might expect out of a graduate degree from Pazzaglia's program at Lehigh is to know what former students are now doing. Keeping in mind that these folks have driven their own success, here's a list of the current activities of former students where I was the major advisor (more or less in the order of their graduation):


Antonio Garcia (M.S.) (Ph.D. UCSB) Associate Professor - Dept of Physics, Cal Poly San Luis Obispo
Merri Lisa Formento-Trigilio (M.S; PhD Penn State) Documentary Filmmaker, Montana.
Dan Koning (M.S.) Employed by New Mexico Bureau of Mines and Mineral Resources.
Paul Wisniewski (M.S.) Environmental Consulting firm - Hawaii.
David Mitchell (M.S.) Employed by private environmental consultant, Massachusetts.
Joel Pederson (Ph.D.) Professor - Utah State University.
Justin Pearce (M.S.) Fugro Geotechnical consulting, Walnut Creek, California
Sarah Newland (M.S.) SFEI, San Francisco California


Jeremy Laucks (M.S.) Owner, Blackfly Canoes and professional river kayaker




Sarah Flanagan (M.S.) D.O., St. Barnabas Hospital, New York.




Matt Wendell (M.S.) Middle School Teacher Earth Science Teacher, North Penn S.D.


Kurt Frankel (M.S.) (PhD USC) (deceased) Assistant Professor - Georgia Tech
Matt Bennett (M.S.) ELM Group consulting.
Patrick Belmont (Ph.D.) (PostDoc U Minn) Associate Professor, Utah State University.
Josh Galster (Ph.D) Associate

Professor, Montclair State




Karl Wegmann (M.S. UNM, Ph.D. Lehigh) Associate Professor, North Carolina State University




Ryan McKeon (Ph.D.) (PostDoc CRREL, New Hampshire




Rachel Baxter (M.S.) Langan Engineering




Kellen Gunderson (M.S., Ph.D.) Chevron Upstream Exploration Research Lab




Chris Dempsey (M.S., Ph.D.) Assistant Professor, Gannon University




Helen Malenda (M.S.) Ph.D. candidate, Colorado School of Mines.




---
Courses
The graduate student in geomorphology can expected to take a wide range of course offerings in EES as well as supporting related sciences from other Departments, particularly Civil Engineering. Specific course offerings (400-level are graduate courses) in any two year teaching cycle may include (* = core course):
EES 316 Hydrogeology
EES 319 GIS and computation analyses in geomorphology
EES 341 Field geology (field camp)
EES 351 Limnology
EES 373 Environmental thermodynamics
EES 384 Lake ecosystems (field camp)
EES 407 Seismology
EES 411 Surface Processes (with Steve Peters)

EES 412 Advanced Fluvial and Tectonic Geomorphology
EES 414 Glacial and Quaternary geology
EES 415 Paleoclimatology *
EES 418 Advanced Quaternary geology
EES 419 Advanced topics in fluvial and tectonic geomorphology
EES 426 Tectonic processes *
EES 427 Orogenic belts
EES 458 Reconstructing Environmental Change
EES 484 Aquatic ecosystems *
CE 320 Flood hydrology and hydraulics
CE 321 Open channel hydraulics
CE 345 Geo-Environmental engineering
CE 424 Surface water hydrology
CE 425 Hydraulics of sediment transport
CE 456 Behavior and design of earthquake resistant structures

For more information, please feel free to contact the Department of Earth and Environmental Sciences. You can fill out and submit an application via the web by following this link. Also, please feel free to email or call Frank Pazzaglia at (610) 758-3667.
---
Back to FJP homepage