Curriculum Vitae
See also Laurence J. Silberstein, Religion Studies Dept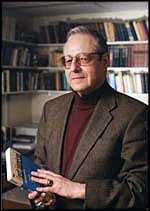 Laurence J. Silberstein is the Philip and Muriel Berman Professor of Jewish Studies in the Department of Religion Studies at Lehigh University and also directs the Philip and Muriel Berman Center for Jewish Studies. Professor Silberstein has also taught at the University of Pennsylvania and Swarthmore College and has served as a visiting professor at Haverford College, Princeton University, and the Pontifical Gregorian University in Rome. He received his Ph.D. from Brandeis University and was ordained as a rabbi at the Jewish Theological Seminary.
As the founding director of the Berman Center, Professor Silberstein developed an extensive program in Jewish Studies at Lehigh University that includes courses, biennial conferences, co-curricular programs, study programs in Israel, a visiting position at the Gregorian University in Rome, and a book series at New York University Press, entitled New Perspectives on Jewish Studies,which he edits.
His book, The Postzionism Debates: Knowledge and Power in Israeli Culture (Routledge, May 1999), was nominated and honored as a finalist in the field of Jewish Philosophy and Thought by the prestigious Koret Jewish Studies Book Awards. He is also the author of Martin Buber's Social and Religious Thought: Alienation and the Quest for Meaning (1989).
Dr. Silberstein has edited a number of books for the Berman Center series on Jewish cultural studies, New Perspectives on Jewish Studies, including New Perspectives on Israeli History: The Early Years of the State, The Other in Jewish Thought and History (with Robert Cohn), Mapping Jewish Identities, and with Shelley Hornstein and Laura Levitt, Impossible Images: Contemporary Art after the Holocaust. He has contributed chapters to numerous books, and his articles on modern Jewish thought and culture have appeared in Soundings,Encyclopedia of Religion, Journal of the American Academy of Religion, International Journal of Middle Eastern Studies, Religious Studies Review, and the Hebrew journal Theory and Criticism. His recent publications include two articles applying the philosophical concepts of Gilles Deleuze to the interpretation of Zionism/Postzionism and to American Jewry. In addition to pursuing these themes, he is has just completed Postzionism: A Reader, which is forthcoming from Rutgers University Press.

His current interests revolve around the application of cultural studies, post-structuralist theory, and feminist theory to issues of Jewish thought and culture. His most recent book, The Postzionism Debates: Knowledge and Power in Israeli Culture (Routledge, 1999), was called "one of the most important books on Israel in recent years" in the Israeli newspaper Haaretz.


BCJS homepage