"She'll be fine in a minute. You'll ... be GONE by then." Astonishing X-Men 2


Logo courtesy of Nate1234 (raymond@xyz.net) of Generation NeXt.
Welcome to Lavender Darts: the Blink Homepage!
Clarice Ferguson, a.k.a. Blink. Introduced in Uncanny X-Men 317. Last seen in real continuity two weeks later, in X-Men 37. A character born to die so that her friends might live on to become the mutant team Generation X, which not incidentally live on to this day in a book which has passed 50 issues and is now one of the best X-titles on the market. End of story.

Or not. WHY? Could it be her heroic role in the Age Of Apocalypse a year later? Numerous cameo appearances in books across the X-Universe over the FIVE years since her disappearance? General marketability in the form of action figures, trading cards, and posters? I don't know.

I can't tell you why this supporting character's absence draws more attention today than many of the more central events of the years since her debut, why nearly every issue of Gen X contains at least one letter mentioning her, or why numerous theories about her origin, fate, and current status can be found in discussions across the internet. What I can tell you is that for three years, I have compiled all the information available about our lavender-skinned heroine. Enter Lavender Darts: The Blink Homepage, Year 4. The story isn't over yet.

-Backfire, author of Lavender Darts, Loremaster of the Cult of Blink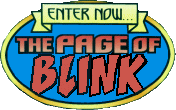 Lavender Darts on Hiatus
Today I'm making official what many of you probably already know. Lavender Darts is going on hiatus. While the Astonishing scandal was a bit of a wake-up call, that alone is not the reason why I'm making this hard decision. The bottom line is that I'm tired of scouring the previews every month for the slightest possibility of a Blink cameo, only to be frustrated every time I actually go and shell out money for the book in question.

What does that mean in terms of the page? First and foremost, it's not coming down. I toiled long and hard in the days after coming to this decision, to ensure that Lavender Darts is the definitive reference for all things Blink pre-8/28/99. As to future updates? I'm still going to be here, so feel free to email me with anything Blink related. I no longer want to chase down rumors, but I'll try to add actual sightings, links, etc as my schedule permits. As to the latest Blink news, my links page is the best place to start looking.

Thanks to all the people (over 20,000, if the counter is to be believed) who've visited over the past years. Who knows? We may meet again....

	Backfire, Loremaster of the Cult of Blink
	(c010@lehigh.edu)

---
Final Story (8/26/99):
Lobdell Says: Bring Back Blink!
Headline says it all. See the sightings page.
Blink Watch!
The Academy, Gen X E'zine X-traordinaire, has asked me to write a column for their news section ("This Just In") entitled Blink Watch! Not only that, Nate1234 has lent his services to creating headline pics for me! This month in the Blink Watch, reaction to the Astonishing situation, and info on Gen X #56. Check it out!
---
Sections Guide
A comprehensive Blink profile, summarizing her major apperances and discussing the various Blink creative teams. Updated: 8/19/99
The one and only complete Blink Chronology. Look here for every documented Blink appearance in all forms of media. Updated: 8/8/99
The latest breaking Blink news. Updated Regularily
A new feature, built from the sighting archives and hopefully addressing the major Blink questions of the day. Updated: 8/19/99
My collected Blink Pics. Updated: 8/19/99
Links to numerous other Blink and comic pages. Updated: 7/2/99
Page related info, not including Blink News but listing other updates to Lavender Darts. Updated regularily
See the various awards and nominations Lavender Darts has collected over the years. Updated: 7/2/99
This page is maintained by Backfire. Mail me atc010@lehigh.edu with questions, sightings, news, feedback on the page, or whatever.
---
Legal disclaimer: Blink, Generation X, the X-Men, et al. are copyrighted by the Marvel Entertainment Group. These pages are unofficial and non-profit. I am not affiliated with, or endorsed by, said aforementioned group, and all use of their trademarks is unauthorized.

Since November 5th, 1997, this many people have wished for the return of Blink!


FastCounter by LinkExchange