Blink in WWF Warzone!
Contributed by Kenneth Blackwell (Seijimei@webtv.net)
It's possible to make a Blink-looking character using the character creation option of the popular wrestling game! (This was done on the PSX version.) Here's how....

Blink
    NAME
     First: Clarice
     Last: Ferguson
     Alias: Blink
     ATTRIBUTES
     Str: 5
     Tuff: 7
     Spd: 8
     Rec: 6
     Chr: 6
     MOVES: Shawn
     PERSONALITY: Fan Fav
     THEME MUSIC: Turbulence
     GENDER: Female 
(must have the "Ladies' Night" option up)
     SKIN COLOR: 6 (55,45)
(It may not look right in the Create Player option, but 
if you select her as your player, she will have the 
right color skin)
     SKIN TYPE: Ripped
     BODY TYPE: Average
     HEAD
     Face: 1
     Hair: Swoop (0,80)
     UPPER BODY
     Tank Top: Generic 2 (30,99)
     Gloves: Finger (30,99)
     Armpads: Band (30,99)
     LOWER BODY
     Belts: Sash (81,99)
     Boots: Brown (30,99)
     Kneepads: Generic (80,99)
     Accessories: Generic Shorts (30,99)


Apparently, the attributes have been tweaked via a Game Shark. Here's the codes:

PSX
----------------
800b64f40000 (Current Version)
800b7b140000 (Version v1.1)

N64
----------------
801362450000


But of course, we'd like to see pictures. Here's some shots from the PSX version of Warzone!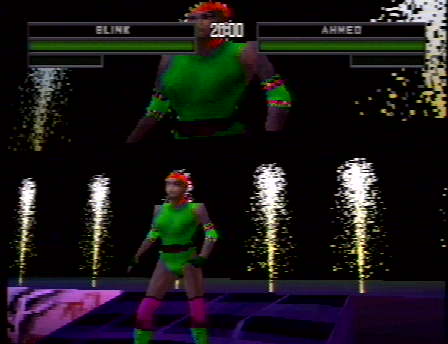 Blink makes her way down the aisle to face her opponent...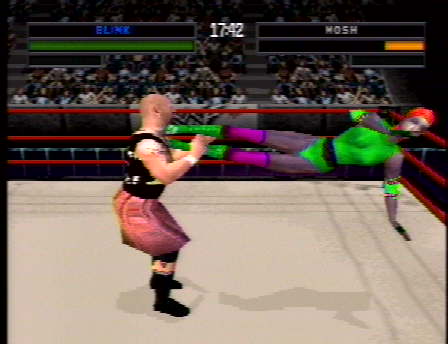 Blink hits Headbanger Mosh with a drop kick!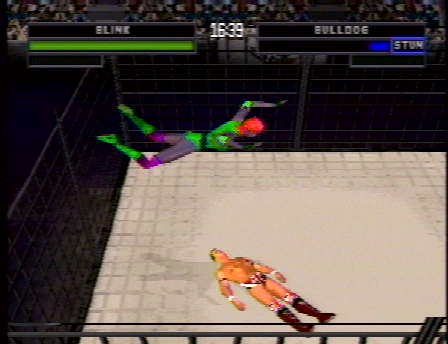 Blink flies off the top of a steel cage to splash the British Bulldog!!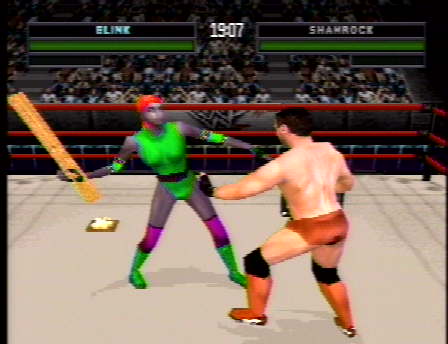 It's Hardcore rules as Blink sets to wallop Ken Shamrock with a 2x4!
That's all for now!
Return to the Chronology.
Return to the Blink Homepage.