Connect with the HUB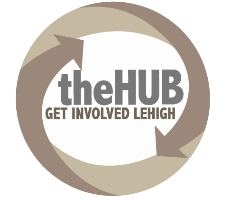 The HUB is a virtual campus center and is the primary location for the Lehigh community to find out what's happening on campus via a campus involvement calendar and to learn about student involvement opportunities. At the HUB, students can also manage their club and organization participation and student leaders are able to manage their groups and effectively communicate with their members and other campus organizations. Students have the ability to create a co-curricular transcript, learn about involvement opportunities and join organizations.
To get on the HUB:
Go to the following link: http://lehigh.edu/hub
Click Login (this will take you to the Campus Portal page)
Enter your Lehigh username (the three letters and three numbers of your Lehigh email address, EX: abc123) and password. This process is similar to when you are logging into the Campus Portal.
Your profile page will appear. If not, you will be asked to complete a basic profile. Enter your first name, last name, e-mail address and campus affiliation (undergraduate student)
More in-depth information and instructions for the Hub can be found at the top of the HUB web page or at http://www.lehigh.edu/~indost/InstructionsHub.shtml
Prelusion Programs and the Student Opportunity Fund
If you are interested in participating in a Prelusion program and would like to apply for funding from the Student Opportunity Fund, we encourage you to register for the Prelusion program of your choice so you can reserve your space in the program. Once you have a confirmed and paid for registration, please complete the Student Opportunity Fund application. This application may take up to a few weeks to be processed. If you are awarded money we will notify you of the amount and refund you the appropriate amount for the Prelusion program for which you registered. Given the cost and popularity of the Outdoor Adventure Program, full scholarships are not usually granted for this program.
If you change your mind about participating in a Prelusion, you can request a full refund until June 30, by writing to the Office of the First-Year Experience at fye@lehigh.edu
Student Opportunity Fund
To apply: Please complete this form in its entirety: https://lehigh.collegiatelink.net/form/start/1647
Through the generous contribution of an anonymous university donor, the Dean of Students Office is able to provide financial assistance to individual undergraduate students to further their personal, professional, and educational development. This fund was established to allow students, who may not otherwise be able to afford it, to take advantage of opportunities to participate in academic and co-curricular experiences by providing a funding subsidy to defray their out-of-pocket expenses. Some examples of experiences/events that may qualify for this subsidy are: training seminars, conferences, workshops, on- and off-campus educational or skill development seminars/programs educational trips, etc. The goal of this fund is to reduce individual students' personal financial expenses related to such experiences and to provide financial access to students who may not otherwise be able to afford to participate.
Receiving an award from the Student Opportunity Fund does not serve as permission for a student to participate in the conference or event they have inquired about. Students must individually seek permission from professors, if the professional development opportunity requires absence from class or any other important academic commitment (ie. exam, field trip, lab experiment, etc.) Students are encouraged to gain the necessary permissions prior to finalizing ANY travel plans.
Students must be at least 18 years of age to be eligible for funding through this source. In addition, at this time, funding from this source may only be used towards experiences that occur within the United States of America. All awards may be considered taxable income under Federal and/or State law. For questions, please email insi@lehigh.edu.