A Proposal for
The Book to Be
As often demonstrated, the physical act of drawing is a powerful and useful tool for understanding the world and our relationship to it, even in this electronic age. This proposed interactive installation will celebrate this process of understanding.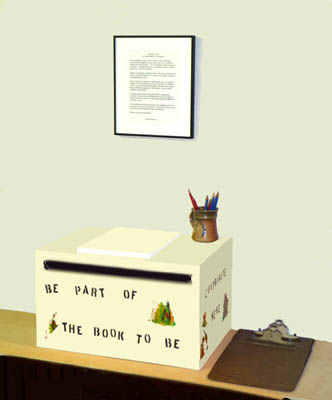 This is a proposal for a book work, or works, to be created as a result of viewer participation. Since it is adaptable to a variety of spaces and subject matter, the particular configuration and content will be determined when the particular venue is determined. In all cases however, for a defined period of time viewers will make contributions related to some predetermined subject matter of the particular situation selected, emphasizing graphic material. After the period is over, I will edit and create one or more artist books from the contributed material. The form of the books will depend on the material.
I would provide pencils, paper and clipboards for people to make their contributions. They could express concrete ideas or more nebulous feelings. They would be encouraged to use drawings, diagrams, but text could also be submitted. These contributions would not be expected to be finished work, since I would develop and edit the work. It would be "democratic art" - what might be called "everyperson book artists."
One form of the physical arrangement is illustrated here. Once an entry is submitted through the slot it cannot be seen by others or retrieved by the submitter. Above the box is a framed set of printed instructions, which will vary according to the specific circumstances but would be something like the following:
The Book to Be
An Opportunity to Participate
You can help to create a book. Please tell me how you really feel about…(the topic idea inserted here) – real or imagined.
While your response could be written reflections or comments, I would encourage you to respond in graphic, pictorial or diagrammatic terms.
Your contribution could be a specific idea or more nebulous feelings. These contributions are not expected to be finished works. I am particularly interested in your first impressions and spontaneous responses to the request. You can make multiple contributions.
You can use the paper and pencils with the clipboards provided. When you have finished please put your paper in the slot of the box below and return the pencil and clipboard for others to use.
All contributions will be anonymous. By submitting an entry you agree to be part of the project. I will edit the material and make one or more books from the contributions.
Thank you for participating!! –
George Shortess