My Residencies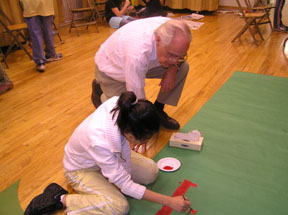 Introduction. I am a rostered residency artist with the Pennsylvania Council on the Art – Arts in Education Program, through PCA's partner, the Allentown Art Museum. Over the years I have done over numerous residencies in schools, after school programs and public festivals. Please see the list below.
Art Medium. The medium for most of my residencies has been computer-based interaction installations, created by the students with my assistance. I provide all of the computer programming and electronic hardware, while the students provide the visual elements and the sounds which are triggered by the sensors in the space. See the web page on my installations for more information about interactive installations.
Goals. My goals for my residencies are to develop further basic art concepts of design and to improve problem solving skills and visual thinking in the students. In addition they will create an interactive installation which is often a new art form for them. The integration of sounds with their visual forms of expression will expand their thinking in new and creative ways.
A Typical Residency. The overall format often starts with one day in which I provide an assembly program for all of the students in the school. This can be done in 3-4 groups depending on the size of the student body. Then I spend the rest of the residency working with 2-3 core groups of 15-20 students each, to create the installation. The PCA guidelines require that the artist work with the students for half of the school day and then spend the other half working on his/her own art form in a place where students can observe and interact with the artist.
Day 1 - Prior to starting the residency (which can be a few days up to several weeks or a month), I will spend one day planning the project with the teachers, supplemented by e-mails. Together we will decide on the theme for the installation, which is often tied to a curricular area, and other details about location of the installation, work areas, materials, schedule of activities, the use of parent volunteers, etc. Generally I want to make sure that the school's expectations are the same as mine. In the past I have worked with themes such as fables, water, nature, space travel, rain forest, self portraits, safety, and city improvement
Day 2 - This day I often present a Power Point presentation to all of the students about the role of the visual arts in helping us to see the world and understand it visually. I also introduce the idea of an installation as organized space.
Day 3 - In the first hour with the core groups, I further expand on the idea of installation art as organized space, using discussions, and examples from my own works to illustrate. I emphasize the need to understand the general nature of the space, its shape, noise level, lighting, etc. Interactivity is introduced with a computer and sensors set up, so that they can experiment with this equipment. This will establish the framework within which the students develop their ideas and use their creative imaginations for the content of the installation. Depending on the theme, the students will begin to develop their ideas at this time.
Day 4 - We will start the next day by briefly reviewing Day 1 material and have a short discussion of the project. The students will continue working with their ideas either individually or in small groups. During this and subsequent sessions, I will make suggestions and provide guidance as they work. Parent volunteers are very helpful here to keep the flow of materials and to work with the students.
Subsequent Days. The students will continue to work on their projects. We will set aside 2-4 days during which I will record the sounds to be used in the installation. We will make the digital recordings for the sampler that will be triggered by the sensors via the computer system. There can also be days during which students work on their projects on their own, during free periods or after school, depending on the policies of the school. During the last several days the students and I will set up the visual and auditory installation in the designated space, which can be the lobby, a hallway, or a classroom. This activity will be spread over several days and the students can work on their own, and with the teacher, as necessary, to get things organized. I will provide the technical equipment, including sensors, computer, sampler, synthesizer, amplifier and speaker, but the students will have an opportunity to work with and understand the equipment. As people walk through the gallery there will be a combination of sounds, and different people will trigger different sounds.
Last Day. We often have a group discussion and an evaluation session with me, the students and the teachers involved. Based on my feedback to the students and on my notes taken during the residency, I will ask specifically about the problem solving, design principles used, and their ability to use visualization in the work. Individual formal grading is typically done by the teachers. The installation can be left in place for a period of time in order for community members, parents, and other classes to experience it. Sometimes a special open house is arranged.
Concluding Thoughts. There is clearly the potential for teaching any subject in the curriculum. A history installation involving a particular historical period, could require creating dress, architecture, and everyday furnishings. Period speech could be the recorded (sampled) interactive sound. Works of literature could be treated similarly. A science-based residency could involve creating a rain forest, with bird sounds and voices, life under water or various principles of physics. Art installations based on self-portraits or landscape paintings are fairly straight forward.
For fees and grant guidelines, please contact me. See my contact information. I will be quite happy to discuss your particular situation and needs, even if you are not sure that you are committed to such a project.
Residency and Workshop Experience

2011 Artist-in-Residence, (10 Days) Dingman Delaware Primary School, Dingman, PA
2009 Artist-in-Residence, (15 days) Shawnee Middle School, Easton, PA
2009 Artist in Urban/Suburban After School Program, Dieruff and Southern Lehigh High Schools, PA
2008 Artist-in-Residence, (5 days) Nazareth High School, Nazareth, PA
2008 Artist-in-Residence, (10 days) Kingshighway Elementary School, PA
2007 Artist-in-Residence, (10 days) Trexler Middle School, Allentown, PA
2006 Artist-in-Residence, (5 Days) Dingman Delaware Primary School, Dingman, PA
2006 Artist-in-Residence, (10 days) Honey Brook Elementary School, Honey Brook, PA
2006 Artist-in-Residence, (10 days) Beaver Creek Elementary School, Downingtown, PA
2006 Artist-in-Residence, (10 days) Loomis Elementary School, Broomall, PA
2005 Artist-in-Residence, (11 days) CUNA After School Program, Allentown, PA
2005 Artist-in-Residence, (10 days) Brooke Elementary School, Royersford, PA
2005 Artist-in-Residence, (10 days) Cynwyd Elementary School, Bala Cynwyd, PA
2005 Artist-in-Residence, (10 days) New Providence Elementary School, Royersford, PA
2004 Arts Day 2004 Artist, Thomas Jefferson Elementary School, Bethlehem, PA
2003 Conducted in service workshop, Computers and Arts, Northeast Intermediate Unit, PA
2003 Mural Artist, (10 days) Musikfest, Bethlehem, PA
2002 Artist-in-Residence, (1 day) Nazareth Middle School, Nazareth, PA
2000 Artist-in-Residence, (16 days) Great Valley High School, Malvern, PA
1999 Artist-in-Residence, (3 days) Moravian Academy, Bethlehem. PA.
1997-98 Artist-in-Residence, (13 days) Middle School, Malvern, PA.
1996 Artist-in-Residence, (6 days) Reading High School, PA.
1995 Supervising Artist, Community Sculpture Project, Mayfair Arts Festival, Allentown, PA.
1990 Workshop Director, computer graphics for children. Open Space Gallery, Allentown, PA.
1987 Artist-in-Residence (4 days), Bloomsburg University, PA.