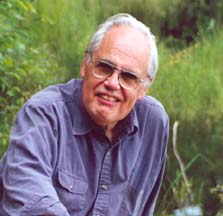 Artistic Statement
George Shortess
Who am I as an artist?
Introduction. My early work, coming from my studio training at the Boston Museum School, emphasized painting and drawing. I still actively paint and show my work in acrylics and watercolors. Painting often provides an aesthetic grounding as I explore more experimental work. One of my aesthetic goals has been to create work in which the viewer must take an active part. I have always been attracted to Japanese and Chinese ink paintings, in part because there is an ambiguity that encourages me to try to complete the work perceptually. As a result I began to explore ways in which my own work could more directly involve the viewer.
Early Interactive. Please refer to the Neural Art page for a description of my early work with interactive art.
Overview of More Recent Interactive Art. My computer-based interactive installations explore the metaphor of our inner world interacting with an external reality, and our need to make a confusing environment coherent. My goal as an artist is to create an environment in which viewers find their own ways and their own truths. Parts of those truths lie in understanding our own neural basis of experience. In some installations this environment has been tangible, such as furniture. In other installations, I have used more ambiguous materials, such as fiber cords and aluminum bars. Often I have incorporated some of my paintings. In the installations, viewers discover places where they can begin to understand and appreciate. Each viewer helps to create an art work, as part of experiencing the work.
Working Methods. I approach my work as a process of construction. I usually start with a general idea, which gets further refined until I feel satisfied with the results. This is true for my paintings and the installations. For the installations, I draw floor plans, build small maquettes and lay out parts of the installation in my studio. However, the final form of the installation is usually not completely realized until it is in place, due to the specific characteristics of the space. As part of my work with computer systems, I have, among other skills, done computer programming, worked with MIDI, built electronic circuits and refinished furniture. I consult with others when necessary. In the process, I have also developed expertise with computer graphics. In addition to incorporating computer graphics in my installations, I have shown individual computer generated prints in a variety of exhibits. In my paintings, I stretch and gesso my own linen canvases, and am continually working to improve my painting and drawing skills.
Current Projects. I am currently working on an interactive sculpture and continue to paint in both acrylics on linen canvas and watercolor/ink on paper. .
Work with Students, I also view my work with students as part of who I am as an artist. The experience of interacting with students generates enthusiasm and inspiration for my own work. For most students the idea of installation art is new. Also using computers to create art works of this kind is often unfamiliar to them. While I work within the general framework of the project as developed with the teachers, the emphasis is on the ideas and creative imaginations of the students.
Final Comment. It is the energy and creativity of a successful installation or painting that provides part of the stimulation for my continuing in the arts. Other sources of motivation include my own curiosity and my desire to communicate my ideas with others. It is also for the occasional epiphany that occurs when it all comes together. My art is my way of life.