about the water street park boulders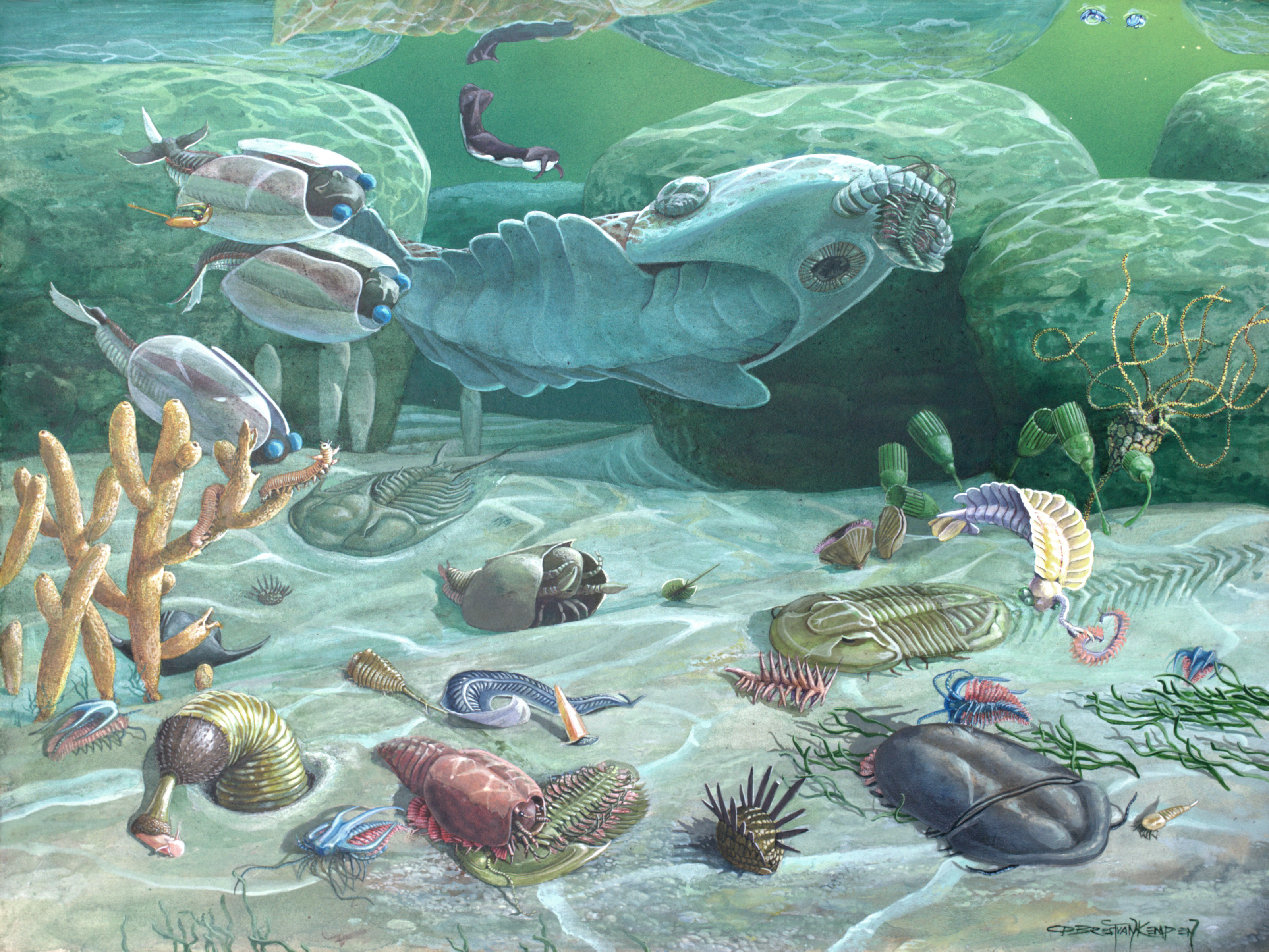 [Return to top]
Stratigraphy
The Allentown Formation is one part of a very thick package of sedimentary rock that underlies eastern Pennsylvania (Fig. 10). These rocks were originally sediments deposited in a series of basin that formed as the Appalachian Mountains were being built from ~500 to 250 Ma. When the Appalachians were being rapidly uplifted by the collision of landmasses and volcanic island arcs, siliciclastic detritus was shed into the basins by rivers, forming deltas and reworked into beaches and marine deposits by currents and waves. When mountain building waned, the basins were flooded by the ocean that accumulated thick deposits of carbonate mud. Most carbonate sediments were originally deposited as the minerals calcite or aragonite [CaCO3] forming limestone. Later, during burial and the movement of fluids, the limestone was transformed into dolostone [CaMg(CO3)2]. The age of the Allentown Formation, like all of the rocks in this stratigraphic column, is known from their fossils, the study of biostratigraphy, anchored by radiometric numeric ages on volcanic ash beds that occur at several places in the column. The shallowing up cycles common in the Allentown Formation are indicative of the complex interplay between carbonate production, subsidence of the basin collecting the sediment, and eustasy, the rising and falling sea level. An excellent description of limestone forming environments can be found here
[Return to top]
How do we know?
Evidence of Water Depth
Geologists can calculate the depth of the environment in which the sediments of the Water Street Park boulders were deposited in by measuring the wave ripple height , ripple wave length, and sedimentary grain size of the ripple marks (Fig. 13). From these variables geologists can use simple mathematical equations to reconstruct the water depth.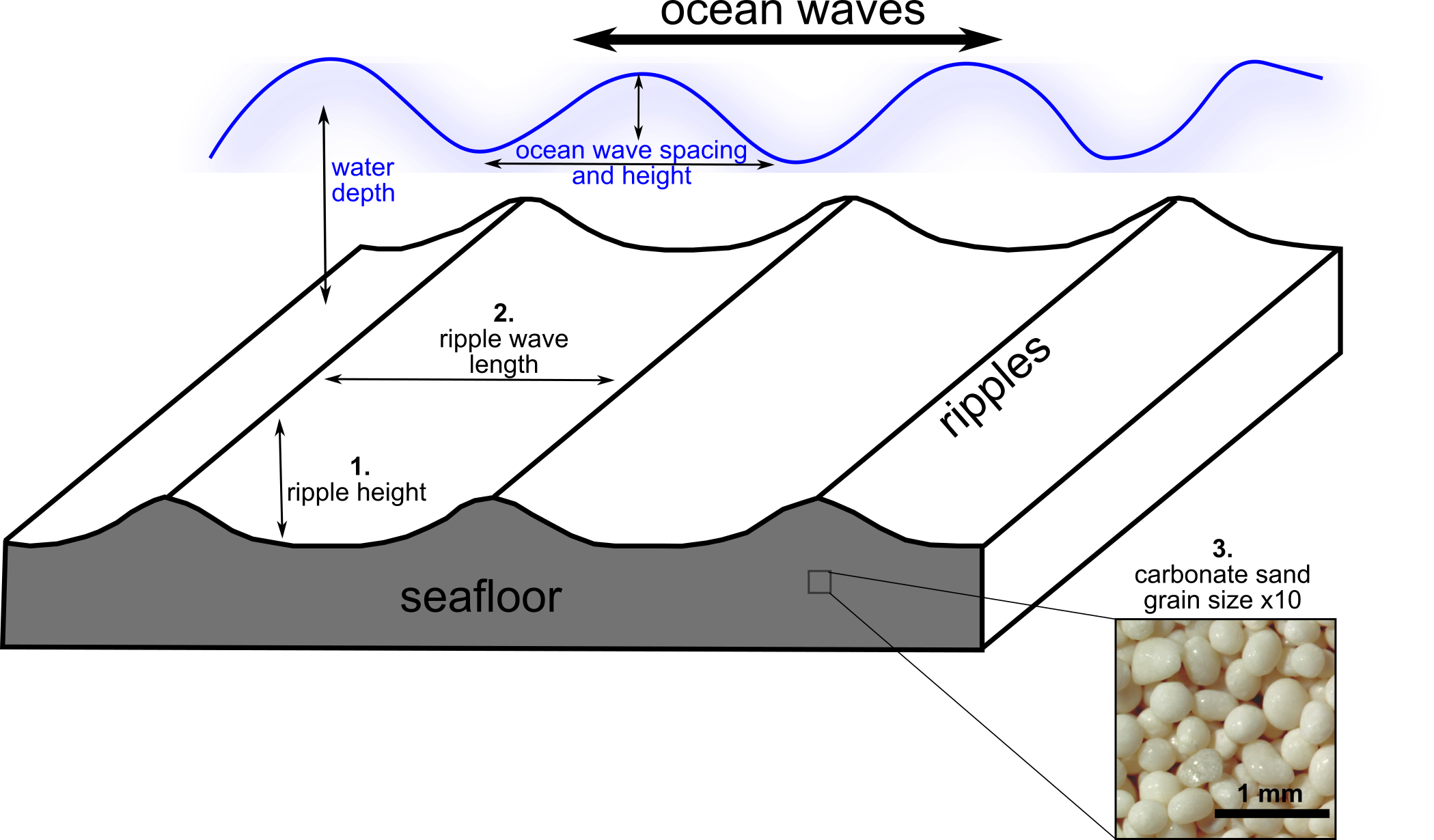 Figure 13. This diagram shows what components of a wave ripple are measured to determine water depth.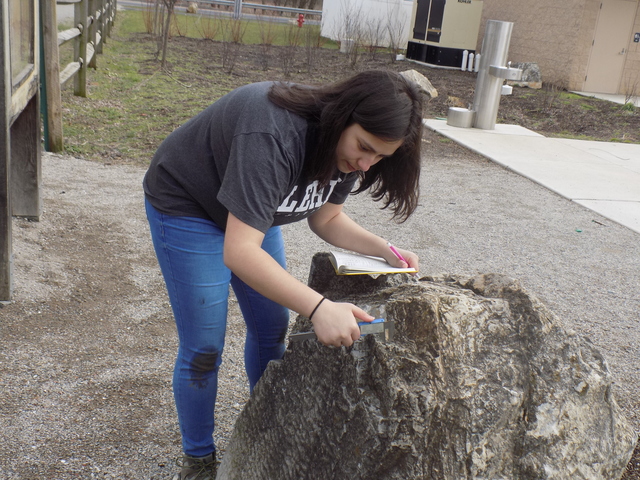 Figure 14. Lehigh University Earth and Environmental Science student, Jocelin Gregorio, takes ripple height measurements of wave ripples on one of the Water Street Park boulders.
After taking field measurements of the wave ripples and obtaining samples of the carbonate sedimentary rock, the rock grains are then sifted through a series of sieves that sort the grains based on size. From there the average of the masses (weight) of all grain sizes are taken to produce an average grain size. The average grain size is used as a variable in the calculations to determine the range of water depths the wave ripple could form.
Data of Wave Ripple Formation and Water Depth

Figure 15. This graph shows the ocean wave height and ocean water depth needed to create the wave ripples seen on the Water Street Park wave ripples. Evidence indicates that wave ripples formed at ocean depths less than 0.75 meters (~2.5 feet).
Frequently asked questions include:
How do we know that the Water Street Park Boulders was originally deposited in a warm shallow ocean?


The features found in the Water Street Park Boulders provide evidence that the Allentown Formation dolostone was originally deposited as a limy mud in a warm, shallow sea. Among these features are the oolites (not visible on the boulders), wave ripples, mudcracks, and stromatolites. All four of these features are common to modern limy mud-bottom shallow seas in warm, tropical areas. We know that the water must have been shallow because the stromatolites we observe at the Water Street Park boulders are of the type that form in tidal regions, like Shark Bay, Australia, where they are regularly exposed during low tide. Furthermore, as seen in Figure 14, measurements from the Water Street park wave ripples and the grain size of carbonate sediments provide evidence that the water depth was no greater than 0.75 meters during the Late Cambrian Period.