JOHANNES STRADANUS, AMERICAE RETECTIO (EARLY 1580s)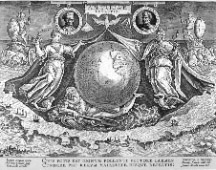 REDISCOVERY OF AMERICA -- WHO IS ABLE WITH MIGHTY HEART TO FASHION A SONG WORTHY OF THE MAJESTY OF THESE EVENTS AND DISCOVERIES?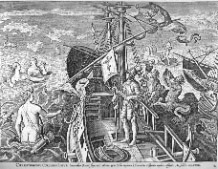 CHRISTOPHER COLUMBUS OF LIGUORIA, OVERCOMING THE TERRORS OF THE OCEAN, ADDED TO THE SPANISH CROWN WITH REGIONS OF ALMOST ANOTHER WORLD THAT HE DISCOVERED. AN. SAL. MVIID.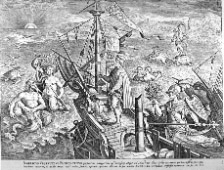 AMERICUS VESPUCCI OF FLORENCE IN A MARVELOUS EXPEDITION TO THE WEST AND TO THE SOUTH OPENED UP TWO PARTS OF THE EARTH, GREATER THAN THE SHORES WHICH WE INHABIT AND KNOWN TO US IN NO PREVIOUS AGE, ONE OF WHICH BY COMMON CONSENT OF ALL HUMAN BEINGS IS CALLED BY HIS NAME. AMERICA, AN. SAL. MIIID.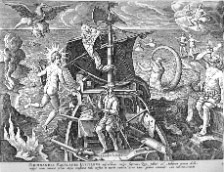 FERDINANDES MAGALANES OF PORTUGAL PASSING THROUGH THE WINDING STRAITS GAVE HIS NAME TO THE LAND OF THE SOUTH AND HIS SHIP, THE FIRST OF ALL AND THE LAST, EMULATING THE PASSAGE OF THE SUN OVER THE EARTH, CIRCUMNAVIGATED THE ENTIRE GLOBE. AN. SAL. MDXXII.