Dave Johnson's Cycling Page
I started cycling (aside from the bike riding as a child that most kids do) when I went to college, at U. C. Berkeley There, my roommate, Norman K. Jacobs (Hi, Norm), encouraged me to go out riding with him. He had just gotten his new bike, and wanted to show me what it was like. So, I got my old 10-speed from my mother's house and we trotted off.
Of course, it didn't take me long to get hooked -- or else I would not be writing this. Before long I had to replace the tank I had from childhood, and was able to find a good bike that fit me on consignment at Spence Wolfe's Cupertino Bike Shop. I still have that bike, a Frejus road bike probably built in 1969 or 1970. I bought it in 1970, and it was almost new.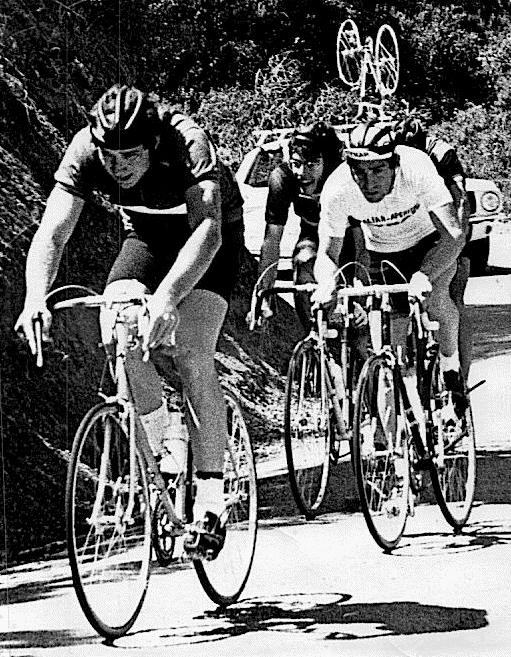 Before long I was racing. I was never really dedicated enough to win; the best I did was a couple 3rd or 4th place finishes in "Class B" road races, and one first place on the track, in a Class B miss-and-out. For those in the know, back before the USCF, when the ABL of A ran amateur racing in the US, senior men raced in either Class A or Class B rather than the several categories there are now. Here is a photo of me in the winning breakaway from one of those races. As usual, I (second from left) am drafting on someone's wheel. Looks like I picked a big guy to draft behind, as usual. This was a race around Martinez, California, probably in 1972. I remember I won a new derailleur in it. Still have it, still brand new. Norm took the picture. I was a pretty fair hill climber, but I alsways sucked at sprints.
What I liked most about cycling was being able to explore country roads, with time to think, and simultaneously get some exercise while sitting down.
---
After college, I kept racing for a couple years where I was in grad school (MIT), but I no longer had enough time to even be moderately competitive. I kept riding through most of grad school, though, mostly with an undergrad, Gary Klein, who had built his own bike in an experimental course at MIT, where they designed and built aluminum bicycle frames. His was rather innovative, since he used oversized tubing for increased stiffness. He's still making them.

But, sigh, as I got older it became harder to keep the interest up, especially after moving to Texas, which was alternately too hot, or raining, and was always too flat. But I kept my bikes, and occasionally rode a little. Then came the houses, kids, and all those excuses.

It wasn't until 1998 that I was able to ride enough to get back into good enough shape to make it enjoyable. I owe that to two things: One, the arrival at Lehigh of my friend Mark Kellum, who rode with me, and the insistance of my doctor that I needed more exercise. She had told me to get a stress test, and I was genuinely worried that I would not do well. That in itself convinced me I had to do something. Now, I don't think I have to worry about the stress test.

In the Spring of 1999, in response to a call from the College to find people to offer freshman seminars, I decided to combine my newly re-discovered enthusiasm with cycling with that request, and offer Zen and the Art of Bicycle Maintenance, with apologies to Robert Pirsig. Actually, the maintenance part is only half tounge-in-cheek. We had to find something to center the course around until the weather warmed up a bit. This was a real course, they have a term paper and everything. The final exam was a century. I figured one point per mile. Everyone finished, which was a challenge for them.

Though there were only 4 students in the class, they were enthusiastic. We explored many of the back roads South and East of Lehigh. Biggest thing we found out was that these roads are hilly. The biggest obstacle to riding here is getting over South Mountain, since you have to take my South Mountain hillclimb, which is 2 miles of solid climbing. We did find a way to get around that, but it takes you out of the way some.

Had it been during racing season we would have gone to some local races, but only were able to find one, a club race at the Valley Preferred Velodrome.
---
Since I wrote that (over 10 years ago), I have kept up my cycling. Have I kept up the pace? Well, fairly well. I don't get as many miles in as I would like; I occasionally ride with people who log 10,000 miles per year; I'm lucky to get 4,000, and had some years under 3,00, but I am still getting out there. I now am a member of two more clubs, since my wife and I moved back up to the Lehigh Valley, and have let my membership in BCP expire. The local club, LWA, with its racing orientation, has a lot of fast rides, so I am sometimes challenged. The other club I belong to, CBBC, is a bit further away, but they have a massive number of rides every month, and I have to keep riding through the winter or I will have to start from scratch in the Spring.
Cycling Links
One thing that is new, now, is the communication possibilities of the net. With such a marginalized sport, we need to have the feeling that there is someone else out there who shares our enthusiasm. On the Web, they are easy to find. Here are some good links I have found. Don't miss the newsgroups, either.
---
More later.