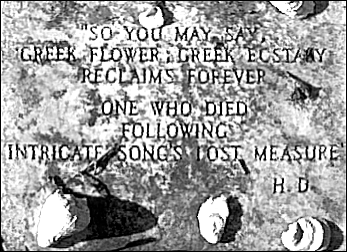 H.D.ís epitaph, Bethlehem, PA

LOST MEASURE
A Conference on H.D.
Lehigh University
Bethlehem, PA
September 20-22, 2002
NEW: A Draft of the conference schedule is now available
Click here
Links:
Lehigh University Dept. of English
CALL FOR PAPERS
H.D. (Hilda Doolittle) is one of the foremost modernist poets of the 20th century. Born in Bethlehem, Pennsylvania, she attended Bryn Mawr College before resettling in London. H.D. was associated with the imagist movement early in her career; she formed close associations with leading modernist writers and intellectuals of her day, including Ezra Pound, D. H. Lawrence, and Sigmund Freud.
This conference, co-organized by the English Department at Lehigh University and the H.D. Society, aims to contribute to the field of H.D. studies by exploring H.D.'s life and writing in her own hometown. We hope to bring accomplished H.D. scholars into dialogue with each other, and empower new voices to join the discussion. The two-day conference will consist of:
∑ formal scholarly papers and discussion
∑ a community-oriented talk for the general public
∑ a poetry reading, including performances H.D.ís poems
∑ a screening of the Kenneth MacPherson film Borderline
∑ a tour of H.D. sites in Bethlehem
∑ a celebration of H.D.'s influence on contemporary literature
Keynote speaker: Susan Stanford Friedman, University of Wisconsin
Short papers (2o minutes) are invited on all topics related to H.D., including but not limited to: H.D. and sexuality; psychoanalysis; mourning; tropes of space and place in H.D.'s writing; H.D.'s classicism, and H.D.'s role in the transatlantic modernist movement. Please send 250 word proposals to Amardeep Singh (amsp@lehigh.edu) by June 15, 2002; early inquiries welcomed.
Lehigh Sponsors include: the Humanities Center, the Women's Center, Women's Studies, English, American Studies, and History