Tuesday Teasers
An Opportunity to Show case your Club or Organization!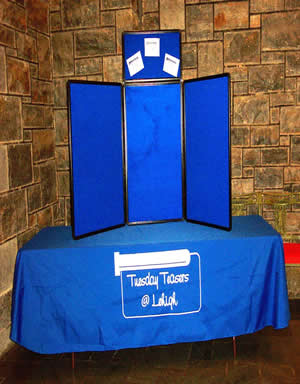 Tuesday Teasers is part of the campus wide programming series sponsored by Student Center Facilities and Office of Student Activities. This program provides students an opportunity to showcase their clubs or organizations in an effort to increase school pride and student involvement. For each recognized Lehigh Club or Organization that commits to a Tuesday Teaser date with our office, we will transfer $20 in their club account. Our office will set up the table space for you with a posting board where you can advertise or display information about your club, see picture above. Some groups even perform! It's up to you!
Get Creative! Advertise your event! Recruit for your club!
Every Tuesday, 12pm - 1pm
Lower UC Lobby
For more information about Tuesday Teasers contact:
Office of Student Activities
Ulrich Student Center
Marianne Deutsch
610-758-6670
mtd1@lehigh.edu