---
Active Research Projects
To a large degree, my active research projects mirror those of my graduate students.
Read on to learn about the activities of our research group.
(1) Active Tectonic, Thermochronologic, and Long Term Landscape Evolution Research in the Appalachians
(2) Active Tectonic Research in Italy I - NSF RETREAT (REtreating TRench, Extension, and Accretion Tectonics)
(3) Active Tectonics Research in Italy II - Unsteadiness in fold growth - encoding of Milankovitch cyclicity in growth strata
(5) River terraces, form process, and genesis
(6) Erosion and Hillslope processes using TCN (cosmogenics)
(7) Rivers, land use, and the human dimension
(8) Geologic Research in the Rocky Mountains
(10) InSAR (coming soon)
---
(1) Active Tectonic, Thermochronologic, and Long Term Landscape Evolution Research in the Appalachians
Summary: The Appalachian Mountains provide a setting where we can investigate the long-term erosion of an orogen that has persisted for hundreds of millions of years. We link geomorphic studies using field and GIS/DEM data with apatite U-Th/He thermochronologic studies. What we are learning is that long-term rates of erosion have been very slow in the Appalachians and are probably characterized by rates on the order of 10 to 20 m/m.y. The Appalachian landscape continues to evolve, as indicated by non-steady shifts in drainage divides between major transverse rivers, but the lag-times in such a slowly eroding system are so large, that there exists a wide range of fluvial disequilibrium. We are currently testing the possibility that large volumes of late Tertiary offshore sediment are link primarily to these drainage-divide adjustments, perhaps linked to a geodynamic process, rather than global climate change. I'm conducting this research with Peter Zeitler, Bruce Idleman, Ryan McKeon, and Eva Enkelmann
History of post-orogenic erosion in the Appalachians illustrating unsteadiness and possible epeirogenic and geomorphic processes driving that unsteadiness. (a) Cross-section oriented orthogonal to the New Jersey continental shelf showing the accumulation of siliclastic detritus eroded from the post-orogenic Appalachians and preserved in the Baltimore Canyon trough (BCT) (Pazzaglia and Brandon, 1996). (b) Detrital AHe data from New England, representative of an Appalachian-wide data set that argues for broad cooling of the rocks at the surface at 100 Ma. (Pazzaglia et al., unpublished) (c) Unsteadiness in post-orogenic Appalachian erosion reconstructed from (a) and expressed as the flux of eroded rock (left axis) and erosion rate (right axis) for a contributing basin equal to the modern Atlantic Slope watershed of 300,000 km2 (Pazzaglia and Brandon, 1996). The shaded region under the curve amounts to 2 km equivalent of rock removed from the Appalachians which represents all of Cenozoic, and a small portion of the Cretaceous section shown in the transparent window in (a). Accounting for dissolution of ~10m/m.y. over the past 100 m.y., 1 km of rock has been dissolved, added to 2 km of rock by erosion, sums to 3 km of rock removed in 100 m.y. Thus, the BCT and thermochronologic data agree in the total amount of post-orogenic erosion; however, even the AHe data are insensitive to the nearly order of magnitude variation in erosion unsteadiness in the past 100 Ma. Unsteadiness may be linked to lithospheric processes like (d) margin flexure (Pazzaglia and Gardner, 2000, BR = Blue Ridge, AE = Allegheny Escarpment, CFA = Cape Fear Arch, NA = Norfolk Arch, SE = Salisbury Embayment), or (e) geomorphic unsteadiness in the westward migration of the continental divide (Harbor and Gunnell, 2007) driven by sub-lithospheric dynamic mantle flow (Forte et al., 2008; Moucha et al., 2008).
Papers
Frankel et al., 2007, GSABulletin, Knickpoint evolution in a vertically-bedded substrate, upstream-dipping terraces, and Atlantic Slope bedrock channels. PDF
Pazzaglia et al, 2006, Rivers, glaciers, landscape evolution and active tectonics of the central Appalachians, Pennsylvania and Maryland: Geological Society of America Field Guide 8, p. 169-197. PDF
---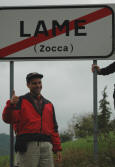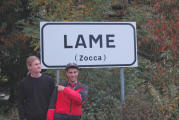 (2) RETREAT (REtreating TRench, Extension, and Accretion Tectonics) CD project
Apennines of Northern and Central Italy
Summary: The Italian Apennines offer a great natural laboratory to investigate concurrent crustal shortening and extension in an uplifted forearc where the basic geologic and structural relationships are well known. The integrated geologic, tectonic, thermochronologc, geodynamic, geomorphic, geophysical, and geodetic team are all focused on understanding the subducted slab rollback process and it role in creating mountainous topography during or following the major phase of crustal thickening. The geomorphic experiment has been focused on several rivers, particularly the Reno River, where terrace mapping, fault mapping, geodetics, and cosmogenically-determined ages and erosion rates are building a mounting story of continued shortening in the Apennine pro-wedge. This shortening is accommodated by deep underplating and highly localized thrust and normal faults at shallower crustal levels both of which are occurring rear of the deformation front. We continue to test the possibility that deformation has followed this out-of-sequence behavior because the thrust front has been buried by Quaternary sediment overfilling the Po foreland, thus reducing the critical taper of the wedge. More information regarding the RETREAT research team can be found at the RETREAT website. My main collaborators in this project are Mark Brandon, Sean Willett, Vincenzo Picotti, Darryl Granger, Darrel Cowan, Martha Cary Eppes, Karl Wegmann, Rick Bennett, Mauro Coltorti, Francesco Dramis, Paola Molin, Matteo Spagnolo, Pier Paolo Bruno, and Sandro Mariani.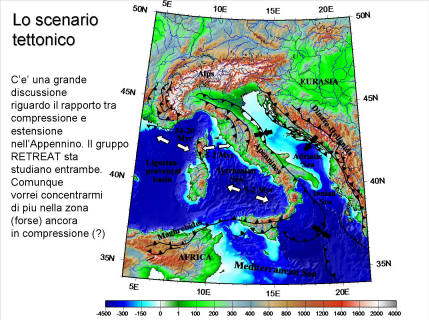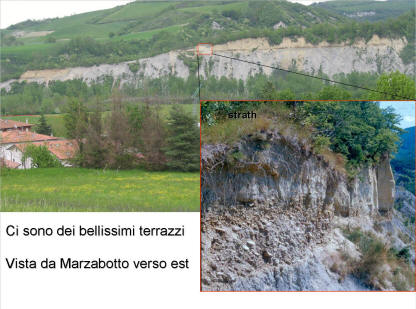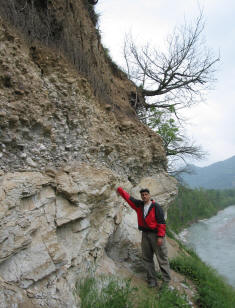 Left figure: Color DEM of Italy and surrounding sea bathymetry. Middle figure: River terraces preserved along the Reno River near Bologna. Right Figure: Contact between terrace gravel and bedrock.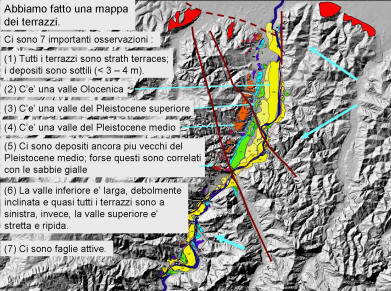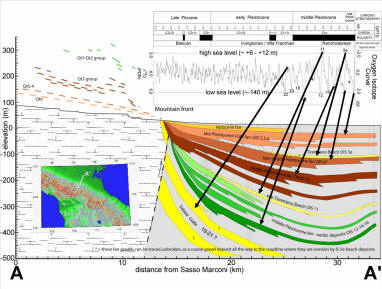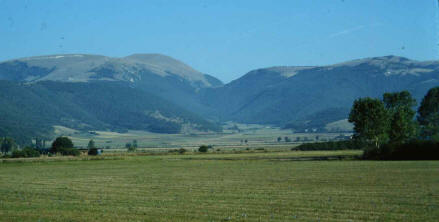 Left figure: Terrace and fault map for the Reno valley; Middle figure: correlation of deformed strata across the Apennine mountain front near Bologna; Right figure: Colfiorito - the site of the 1997 "Assisi" Earthquake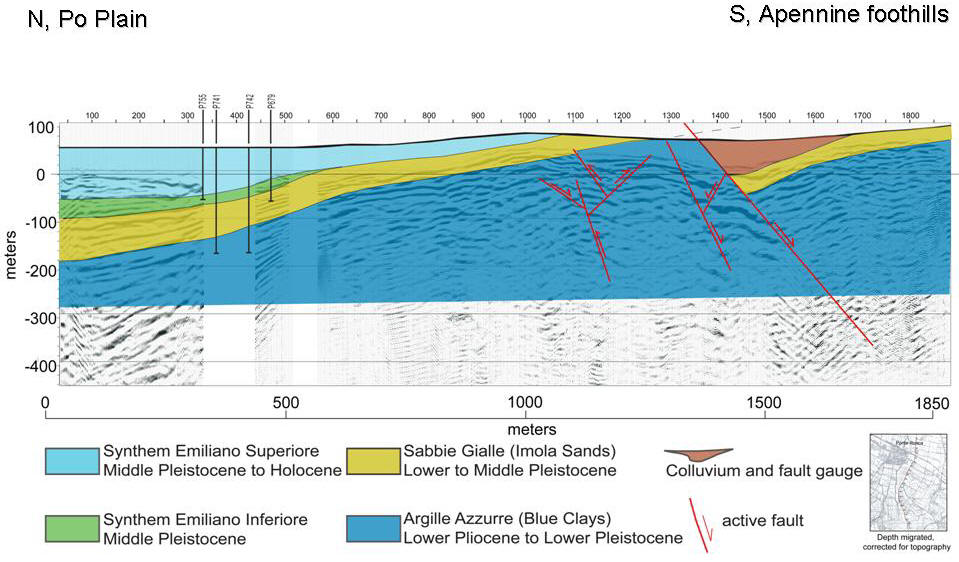 Early (and almost certainly incorrect) interpretation of a high resolution seismic line that we have collected across the Bologna mountain front near Ponte Ronca. We have since reprocessed the data resulting in better reflectors and a new interpretation. A paper describing this line and our findings is in prep.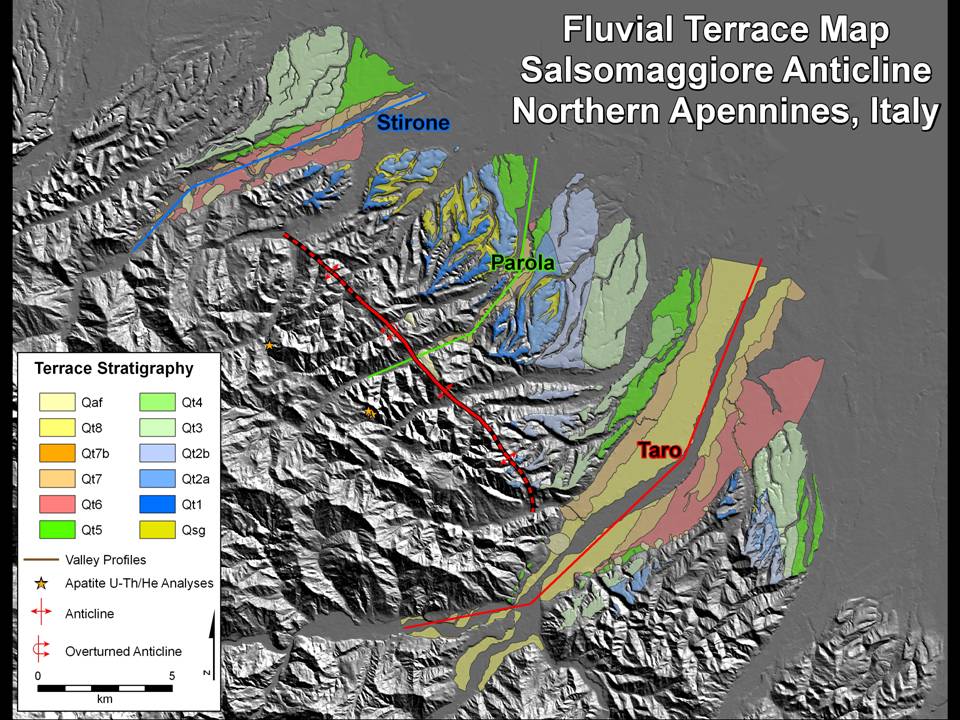 Terrace map produced by M.S. student Luke Wilson.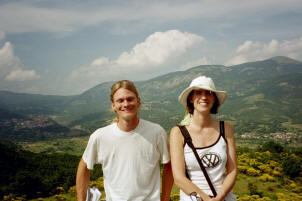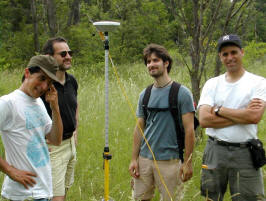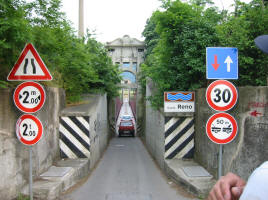 Friends, co-workers, and cool places in the Reno valley.
Papers:
Molin, P., Pazzaglia, F. J., and Dramis, F., 2004, Geomorphic expression of active tectonics in a rapidly-deforming forearc, Sila Massif, Calabria, southern Italy: American Journal of Science, v. 304, p. 559-589. PDF
Spagnolo, M. and Pazzaglia, F. J., 2005, Testing the geological influences on the evolution of river profiles: A case from the northern Apennines (Italy): Geogr. Fi. Dinam. Quat., 28, 103-113. PDF
Frankel, K. L. and Pazzaglia, F. J., 2005, Tectonic geomorphology, drainage basin metric, and active mountain fronts: Geogr. Fi. Dinam. Quat., 28, 7-21. PDF
Picotti, V. and Pazzaglia, F. J., 2008, A new active tectonic model for the construction of the Northern Apennines mountain front near Bologna (Italy): Journal of Geophysical Research, 113, doi:10.1029/2007JB005307. PDF
Wilson, L., Pazzaglia, F. J., Anastasio, D. J., 2009, A fluvial record of active fault-propagation folding, Salsomaggiore anticline, northern Apennines, Italy: Journal of Geophysical Research, 114, doi:10.1029/2008JB005984. PDF
Picotti, V., Ponza, A., and Pazzaglia, F. J., 2009, Topographic expression of active faults in the foothills of the northern Apennines: Tectonophysics, 474, 285-294. PDF
---
(3) Active Tectonics Research in Italy II - Unsteadiness in fold growth - encoding of Milankovitch cyclicity in growth strata
Summary: We are able to document unsteadiness in the growth of folds cored by blind thrusts along the Apennine mountain front. We have discovered that the magnetic susceptibility in a section of Messinian-Pleistocene marine mudstone varies at Milankovitch frequencies, allowing us to see unsteadiness in fault slip and growth strata tilt at 23, 41, and 100 kyr timescales. This study provides a rare opportunity to link unsteadiness at geologic and geodetic scales. We are in the process of comparing the unsteadiness of two unconnected structures to see if there are any feedbacks and temporal overlap caused presumably by surficial processes. We are also trying to understand how these magnetic signals and Milankovitch fidelity are being encoded into the rocks. I am doing the research collaboratively with Dave Anastasio, Ken Kodama, Andrea Artoni, and Vincenzo Picotti. Kellen Gunderson is the PhD student working on the project.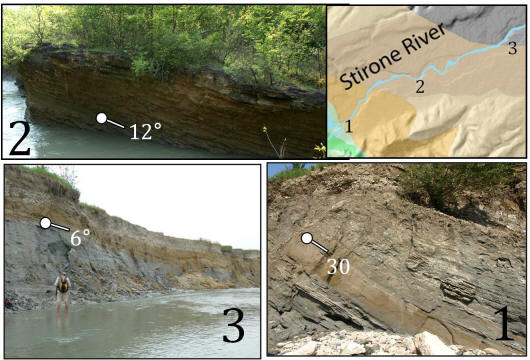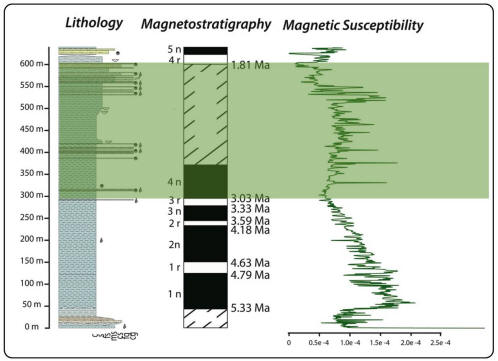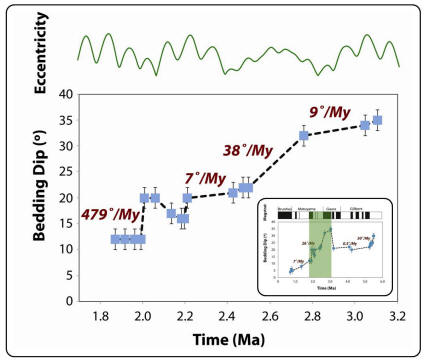 Left to Right: Example of growth strata exposed in the Stirone River, variability in magnetic susceptibility and the geomagnetic time scale, and Milankovitch-tuned folding unsteadiness.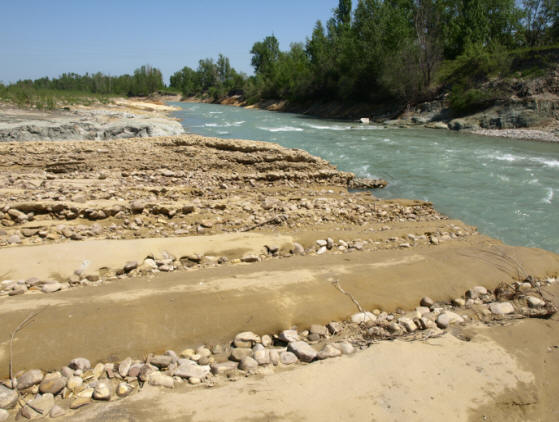 Growth strata along the Enza River, San Paolo d'Enza, Italy.
---
Summary: The island of Crete rises precipitously out of the south-central Mediterranean Sea to peak elevations of ~ 2400 m. It is the highest-standing part of the Hellenic forearc, and active, north-verging subduction zone accommodating the convergence of Europe and Africa. By all conventional thinking, the forearc should be high-standing because of crustal thickening linked to the convergence. So what are the only faults that can be easily found and described on Crete both high angle and low-angle normal faults? We suspect that the easily mapped faults reflect crustal thinning at shallow levels in response to a deeper-seated inflation driven by underplating. We are in the process of testing this hypothesis through a geomorphic and geodetic study of uplifted marine terraces that tend to be very well preserved along the western and southern coast of the island. We are also investigating the origin of a large earthquake in 365 AD that left a distinct bath-tub ring notch around much of the island. My collaborators with me on this project are Mark Brandon, Rick Bennett, Babbis Fassoulas , and Karl Wegmann.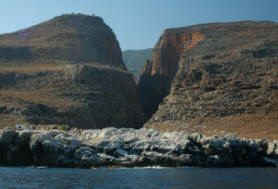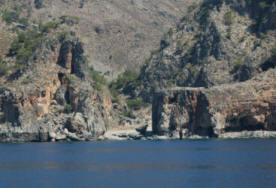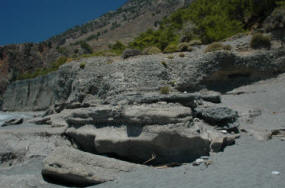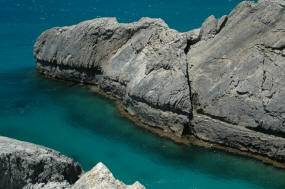 Marine terraces in Crete do not suck.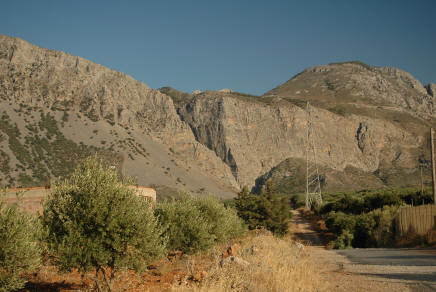 And the gorges are gorgeous.
---
(5) River terraces, form, process, and genesis
Summary: Rivers and terraces represent the core data set that my students and I collect to understand landscape evolution, climate change, and active tectonics. I am interested in working with any student that wants to forward our understanding of how rivers make terraces and what modulated unsteadiness in river incision. I am particularly interested in modeling the processes that carve straths. This research involves a good deal of field work and integration of Quaternary geochronology such as OSL and cosmogenics.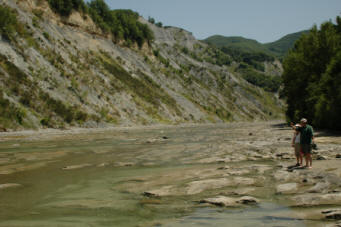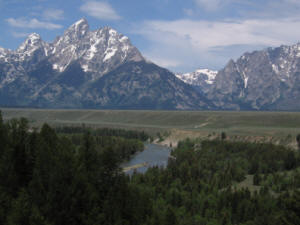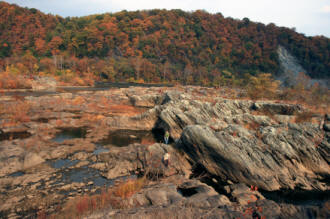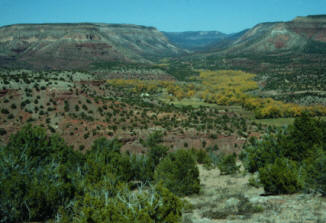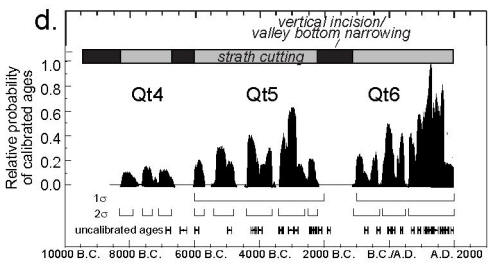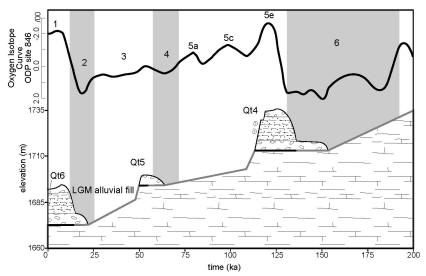 Photos upper row: strath and strath terrace at Marzabotto, Italy; outwash terraces in from Snake River Overlook, Grand Teton N.P.; straths and strath terraces, Holtwood Gorge, Susquehanna River, PA; terraces of the Jemez valley, New Mexico. Figures lower row: Holocene strath forming intervals for the Clearwater River, Washington State; Terrace formation and long-term incision for the Jemez River, New Mexico.
Papers:
Pazzaglia, F. J. and Gardner, T. W., 1993, Fluvial terraces of the lower Susquehanna River: Geomorphology, v.8, p.83-113. PDF
Pazzaglia, F. J. and Brandon, M. T., 2001, A fluvial record of long-term steady-state uplift and erosion across the Cascadia forearc high, western Washington State: American Journal of Science, v. 301, no. 4-5, p. 385-43. PDF
Pazzaglia, F. J., Gardner, T. W., and Merritts, D., 1998, Bedrock fluvial incision and longitudinal profile development over geologic time scales determined by fluvial terraces, in Wohl, E. and Tinkler, K., eds., Bedrock Channels: American Geophysical Union, Geophysical Monograph Series, v. 107, p. 207-235. PDF
Wegmann K. and Pazzaglia, F. J., 2002, Holocene strath terraces, climate change, and active tectonics: the Clearwater River basin, Olympic Peninsula, Washington State: Geological Society of America Bulletin, v. 114, n.6, p. 731-744. PDF
Wegmann, K. and Pazzaglia, F. J., 2009, Late Quaternary fluvial terraces of the Romagna and Marche Apennines, Italy: Climatic, lithologic, and tectonic controls on terrace genesis in an active orogen: Quaternary Science Reviews, 28, 137-165. PDF
Pazzaglia, submitted, River Terraces, in Wohl, E., ed., Treatise of Geomorphology, Elsevier. PDF
---
Summary: I have had a long-standing research interest in the Olympic Mountains (see Pazzaglia and Brandon, 2001, Wegmann and Pazzaglia, 2002, Tomkin et al., 2003) and our most recent foray to this great field location is to use cosmogenics to unravel erosion rates and hillslope processes. The key goal in this research is to document and quantify the strong suspicion that the erosion rate you measure based on the inventory of cosmogenic 10Be in stream alluvium depends on the grain size fraction investigated. This grain size effect is linked to the distribution of hillslope processes in a watershed. We are once again investigating the Clearwater drainage basin because we have good independent estimates for what the long-term erosion rates should be and we can rather simply understand the spatial distribution of creep-dominated vs. landslide dominated hillslopes. My collaborators on this project are Patrick Belmont, John Gosse, and Mark Brandon.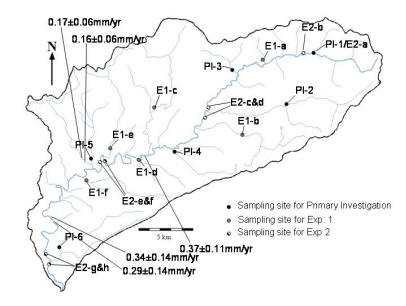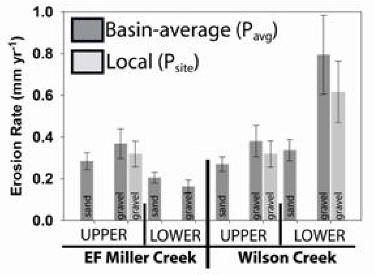 Left: The Clearwater basin, sampling locations, and preliminary erosion rates. Right: Erosion rates for Miller and Wilson creeks. Note the differences in rates as a function of grain size and sampling location (headwaters vs stream mouth). Detalied interpretation of these data is forthcoming in a submitted publication.
Papers:
Belmont, P., Pazzaglia, F. J., and Gosse, J. C., 2007, Cosmogenic 10Be as a tracer for hillslope and channel sediment dynamics: Earth and Planetary Science Letters, 264, 123-135. PDF
---
Summary: There has been an explosion in the industry of "stream restoration" with the emphasis placed on channel reaches that either are aesthetically unpleasing, ecologically dysfunctional, or simply do not contain the desired density of fish. There is another way to approach the interaction of rivers and people and it involves (1) building a deep-time and historic record of channel behavior, (2) documenting channel geometry in the context of the entire watershed, and (3) carefully quantifying how discharge scales with drainage area. We have discovered that the often-cited assumption that discharge scales linearly with drainage area is not true for watersheds under strong urban/suburban development pressure. This is the first indication, to our knowledge for a simple quantitative link between discharge characteristics and land developmental pressure.
These results have lead us to begin thinking about how carbon is fixed, sequestered, metabolized, and transported in watersheds. Particularly, we are taking advantage of natural (virgin) and impacted watersheds in Pennsylvania to develop a biogeomorphologic model of these fluxes and processes. My collaborators on these projects are Josh Galster, Don Morris, Bruce Hargreaves, Ben Felzer, Zicheng Yu, and Steve Peters. I have two PhD students working on different aspects of these projects - Matt Bennett and Chris Dempsey.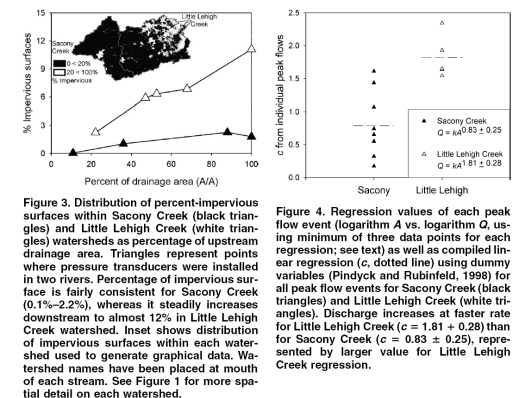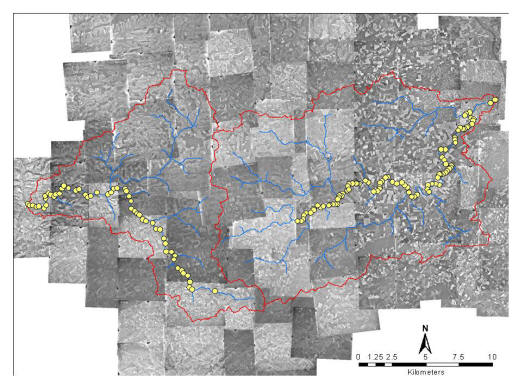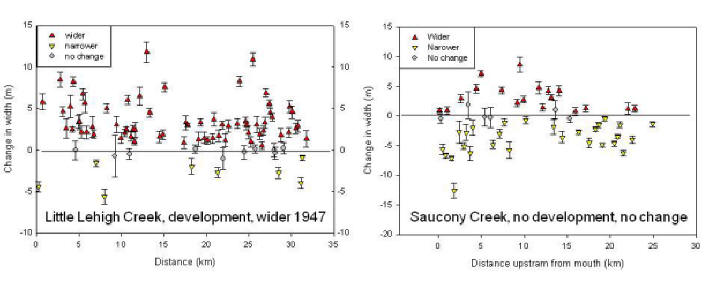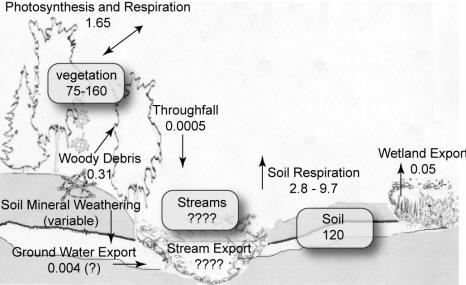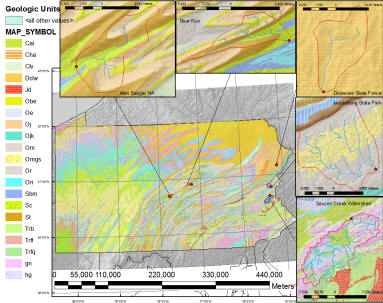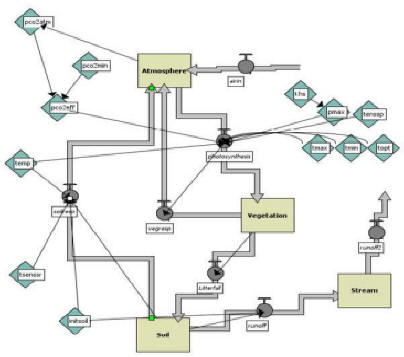 Carbon Fluxes in watersteds, study areas in Pennsylvania, and NetLogo numeric model of Bennett (in progress).
Papers:
Galster et al., 2006, Effects of urbanization on watershed hydrology: The scaling of discharge with drainage area: Geology, v. 34, p. 713-716. PDF
Galster, J. C., Pazzaglia, F. J., and Germanoski, D., 2008, Measuring the impacts of watershed urbanization on channel widths using historic aerial photographs and modern surveys: JAWRA, 44, 1-13.
---
(8) Geologic Research in the Rocky Mountains
Summary: I have a long-standing interest in Rocky Mountain Geology and Geomorphology and continue to participate in many projects, many of which are unfunded, but nevertheless continue to interest students. I have some key partners in this research, namely Dave Anastasio at Lehigh and Grant Meyer, Les McFadden, and Jane Selverstone at the University of New Mexico. I also am piggy-backing some of this research on my yearly migration west for Lehigh Field Camp. The research is being conducted in New Mexico (Rio Grande rift), Wyoming, Idaho, and Montana, (including Yellowstone-Grand Teton National Parks).
The Rio Grande rift is one of only a handful of continental rifts in the world. The rift flanks and basin fill are very well exposed providing an outstanding natural laboratory for the study of active tectonics, tectonic geomorphology, and Neogene basin stratigraphy. These research topics have a broad general interest and important applied overtones as they pertain directly to issues that affect people. A large percentage of the population base in the American Southwest lives on or around the Rio Grande - one of the few perennial water sources. The tectonic evolution of the rift has controlled the architecture and hydrology of the aquifer that supplies large cities like Albuquerque, NM. Only through and integration of the geomorphology, paleontology, and sedimentology of the basin fill have we finally begun to get a handle on the complex rift-basin stratigraphy. Further studies, some of which are in progress, are beginning to characterize the seismic hazards of having large population centers in this tectonically active setting.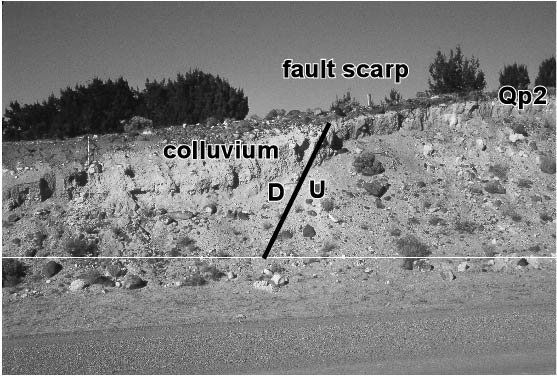 This is a photograph of a Quaternary fault scarp on the Borrego Canyon Road on Zia Pueblo. The fault is just one of many that strike generally north-south along the western flank of the rift. Although there are no written or oral traditions which speak to seismic activity in this region, the fault clearly cuts Quaternary gravels thought to be middle Pleistocene age. Perhaps the recurrence times for these faults exceed the history of continuous human occupation for this region which is at least 1000 yrs.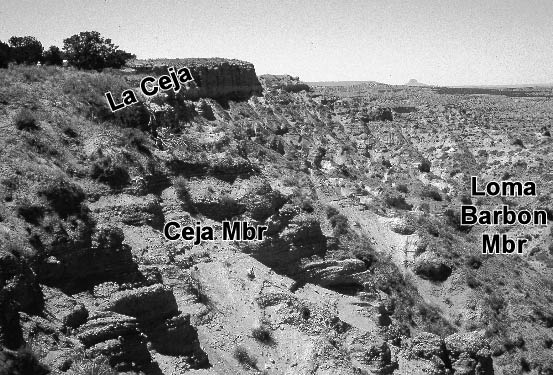 This is a photograph of La Ceja (the eyebrow), an imposing north-facing escarpment where the basin fill which comprises the aquifer beneath Albuquerque is well-exposed. Several years of mapping and detailed sedimentologic and stratigraphic work has brought us alot closer to understanding the geomorphic and sedimentologic response to tectonics. This understanding lies at the core of current and future studies which are aimed at providing the answers to how to effectively manage a dwindling ground water resource as the population base of the rift continues to grow. One of the important accomplishments of this collaborative research between UNM, the New Mexico Bureau of Mines and Mineral Resources, the U.S. Geological Survey, the American Museum of Natural History, and the Pueblos of Jemez and Zia has been a redefinition of the basin fill stratigraphy..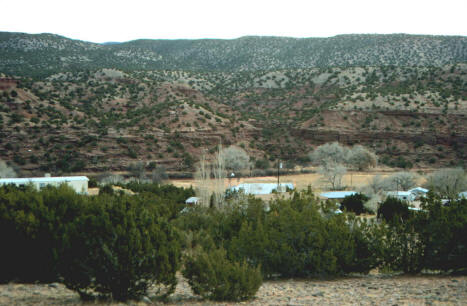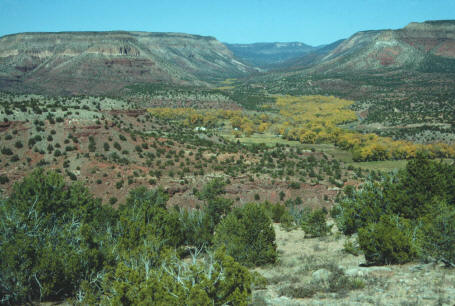 Here are some great views of the Jemez valley where the successive mapping of John Rogers, Merri Lisa Formento-Trigilio, Kurt Frankel, and Amanda Ault have defined a wonderful terrace stratigraphy. The relationship of the correlated terrace profiles (if we've done it right, we are still learning!) to the river long profile reveals the complex interactions between base level fall, climate-induced changes in stream concavity, and Jemez caldera uplift.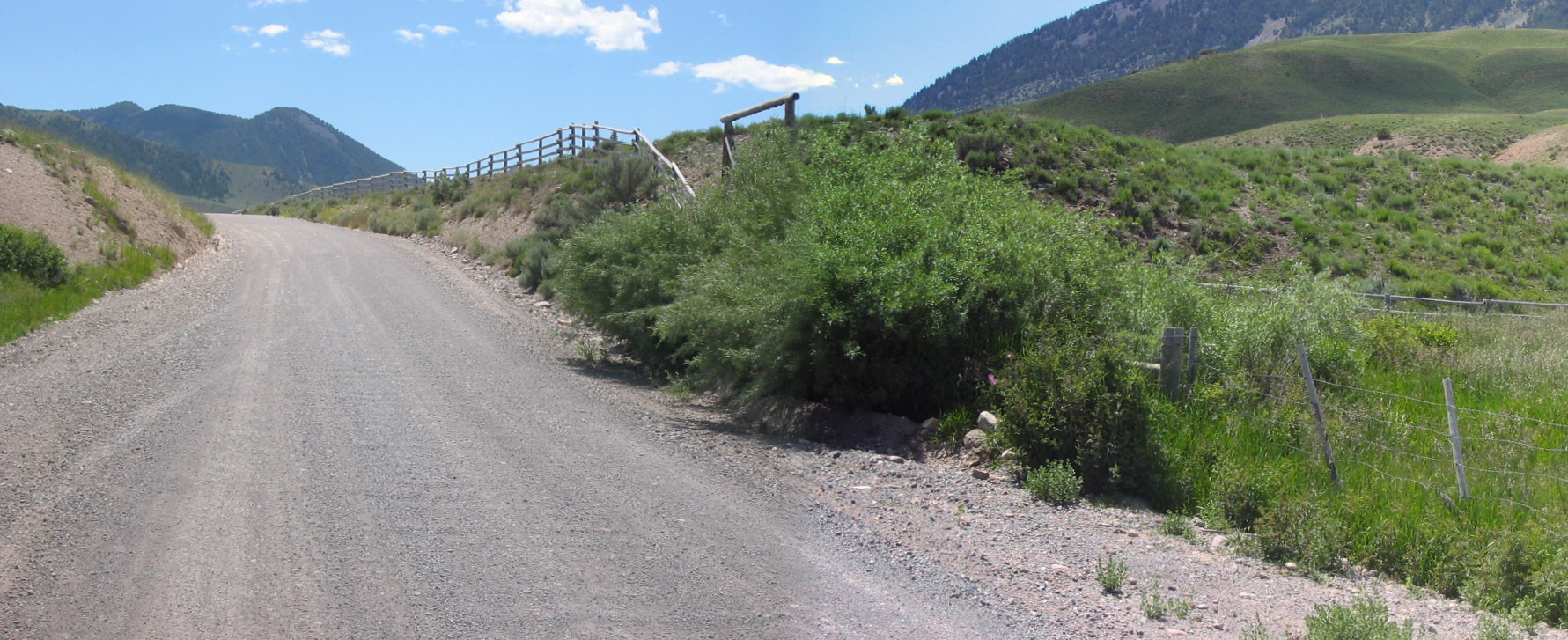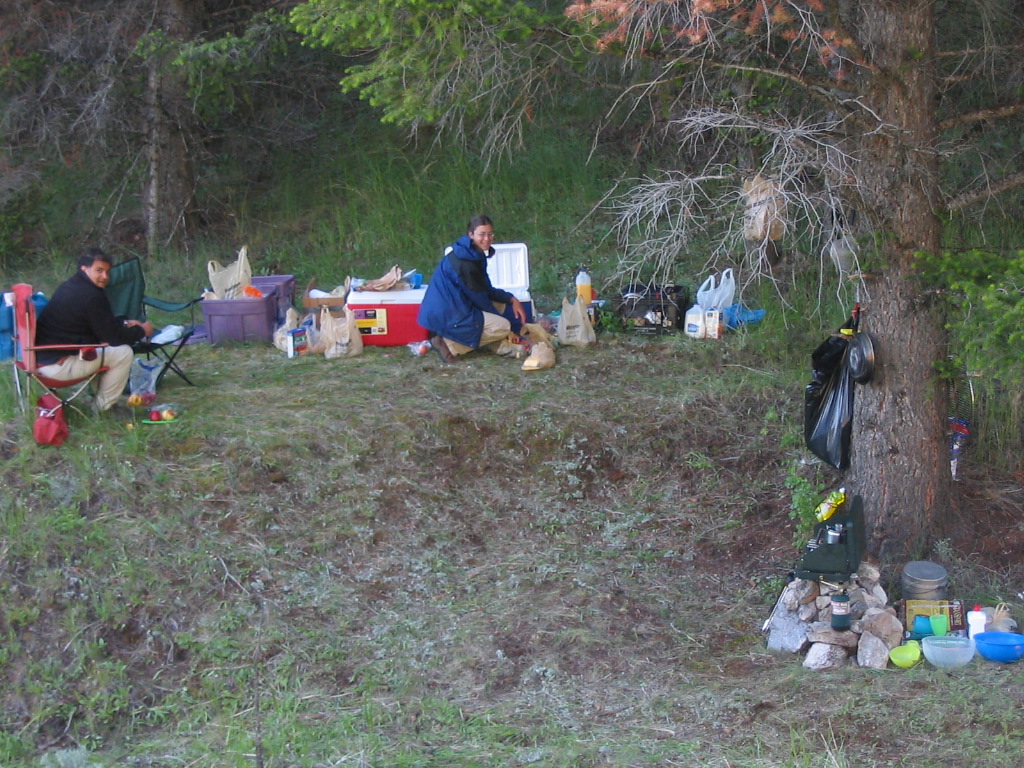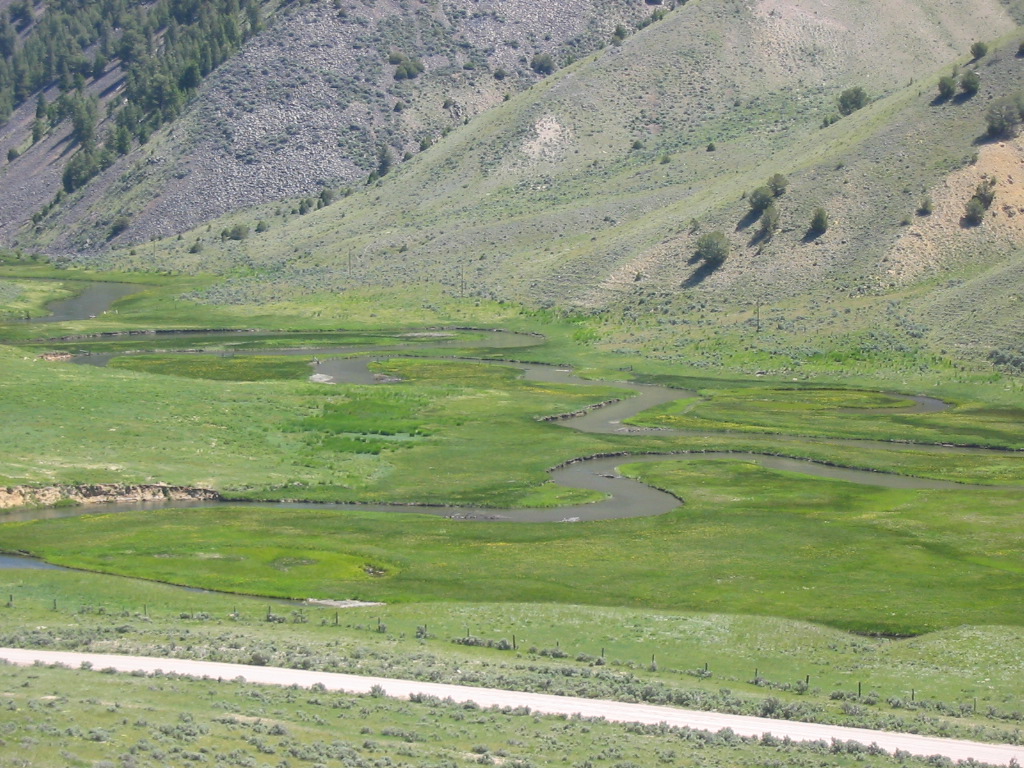 Field work in Montana includes investigations of the active range front fault of the Tendoy Mountains, shown here crossing Big Sheep Creek (upper photo), a great base camp up McKnight Canyon (left), and river terraces along Big Sheep Creek (right).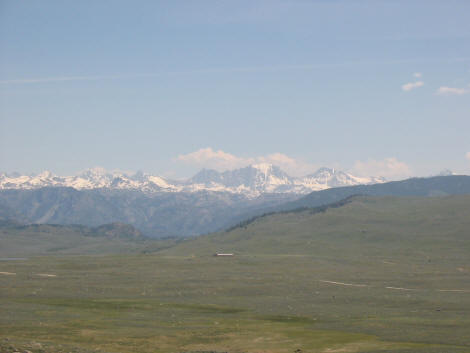 Wind River Range in western Wyoming. I am interested in working on the age and genesis of the sub-summit surface and linking its origin to the Green River basin stratigraphy.
Recently, as a class project, a group of graduate students tackled the subject of dynamic topography and used Yellowstone as the key example of epeirogenic uplift and its geomorphic expression. That project resulted in a publication and has spurred our interest to continue pursuing our understanding of crustal deformation processes away from plate boundaries.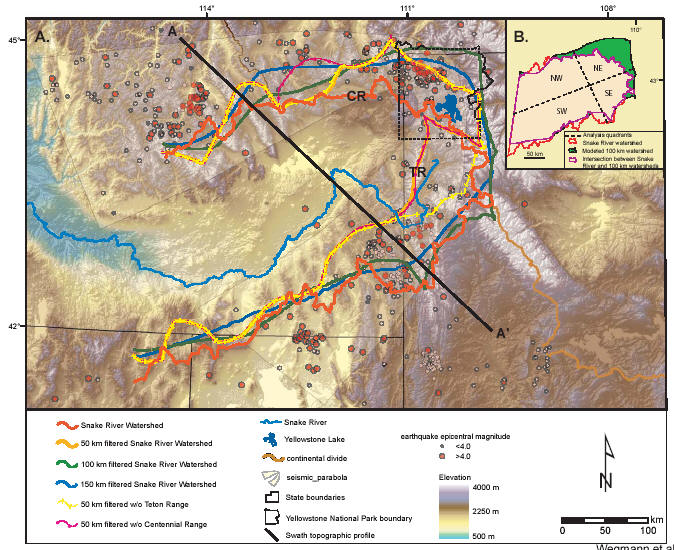 Papers:
Harkins, N. W., Anastasio, D. J., and Pazzaglia, F. J., Tectonic geomorphology of the Red Rock fault, insights into segmentation and landscape evolution of a developing range front normal fault: Journal of Structural Geology, v. 27, p. 1925-1939. PDF

Regalla, C. A., Anastasio, D. J., and Pazzaglia, F. J., 2007, Characterization of the Monument Hill Fault system and implications for the active tectonics of the Red Rock Valley, southwestern Montana: Journal of Structural Geology, v. 000, p. 1-14. PDF
Frankel, K. L. and Pazzaglia, F. J., 2006, Mountain fronts, base level fall, and landscape evolution: Insights from the southern Rocky Mountains, in Willett, S. D., Hovius, N., Brandon, M. T., and Fisher, D. eds., Tectonics, climate, and landscape evolution: Geological Society of America Special Paper 398, p. 419-434 PDF
Wegmann, K. W., Zureck, B. D., Regalla, C. A., Bilardello, D., Wolleburg, J. L., Kopczynski, S. E., Ziemann, J. M., Haight, S. L., Apgar, J. D., Zhao, C., and Pazzaglia, F. J., 2007, Position of the Snake River watershed divide as an indicator of geodynamic processes in the greater Yellowstone region, western North America: Geosphere, v. 3, p. 272-281. PDF
---
Geologic mapping has always been a important part of my research and the research of my students. All of the above projects have strong mapping components. In addition, we have begun a pilot project to link geologic mapping with broader educational and public outreach goals in mind. Through cooperation and funding with STATEMAP and EDMAP programs, we have mapped Lehigh Gorge State Park (PA) and developed a web, inquiry-based, interactive, educational exercise that can be used by middle school science teachers in an Earth Science curriculum. I current am doing most of my mapping in collaboration with Dave Anastasio and his students including Chrissy Majorowicz.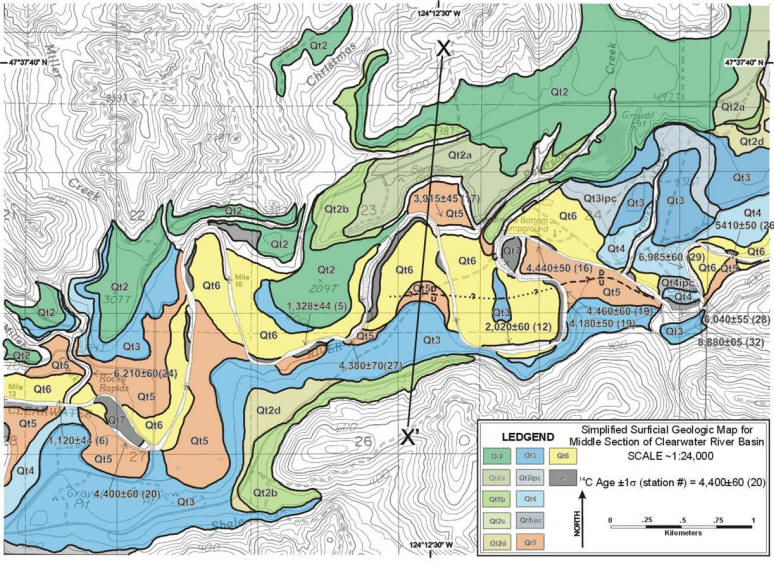 Example of a surficial geologic map of river terraces, Clearwater River, Washington State. Mapping by Karl Wegmann, see Wegmann and Pazzaglia, 2002.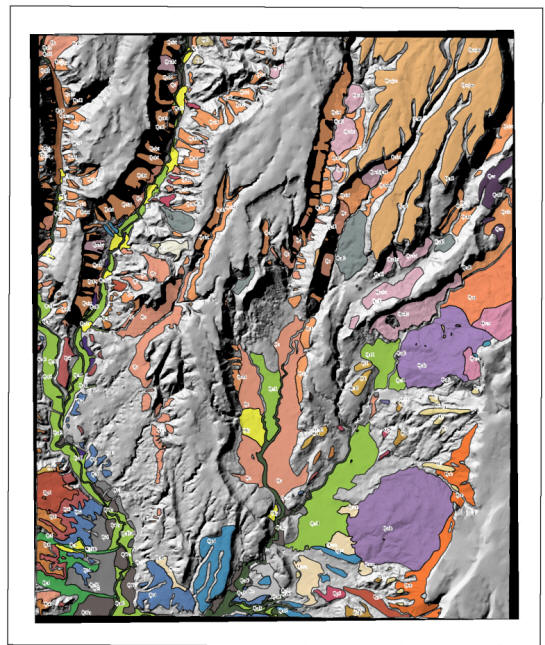 Ponderosa, New Mexico 7.5 minute quadrangle surficial geologic map draped on digital shaded topography. Mapping by Kurt Frankel. See Frankel, 2002.


---
back to FJP homepage